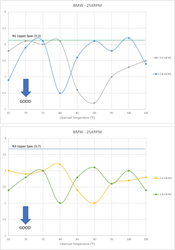 Pictured: Lab tests revealed that at a film build of 1.8 mils applied with a cup speed of 25 KRPM, the best finish quality is obtained when the clearcoat is applied at 80°F whereas, when the film is reduced to 1.6 mils, the optimal finish quality is obtained at 90°F. As can be seen, finish quality
WASHINGTON, Mich. (PRWEB) January 22, 2018
Saint Clair Systems, a global leader in fluid process temperature and viscosity control, today announced it has teamed with industry leaders Carlisle Fluid Technologies and BYK-Gardner in a comprehensive study designed to quantify the interaction between application variables with the goal of producing optimal finish quality, on-demand, at minimal cost.
"What sets this study apart is that it includes the temperature of the paint at the point-of-application as one of the controlled variables," says Michael Bonner, SCS' VP of Engineering & Technology.
The first experiment in the series focused on clearcoat — a hot topic in the industry right now. To accomplish this in-depth analysis, over 100 panels were robotically sprayed at Carlisle Fluid Technologies' Toledo, OH laboratory. A premiere leader in precision finishing equipment, Carlisle is the parent company of five brands recognized the world over, with more than 375 collective years of finishing industry experience.
Bonner added, "One of the biggest problems in the paint finishing industry is that it is so subjective. One person's gloss is another person's semi-gloss."
To assure reliable, industry standard measurements, BYK-Gardner brought their Wave-Scan laser measurement technology to the team. The Wave-Scan is the global "gold" standard for objective orange peel and distinctness of image measurements.
The analysis of this data revealed:

There is a direct, predictable relationship between temperature and finish quality.
The optimal temperature to get the best results varies depending upon atomization and film build.
Controlling temperature allows better finish quality at lower film builds.
Bonner concluded, "Armed with this data, automotive paint finishers can use temperature control to consistently hit the quality targets demanded by their customers, often at lower film builds, thus decreasing rejections and re-work and reducing waste. This can add up to huge operating cost savings."
See Attachment Pictured: Lab tests revealed that at a film build of 1.8 mils applied with a cup speed of 25 KRPM, the best finish quality is obtained when the clearcoat is applied at 80° F whereas, when the film is reduced to 1.6 mils, the optimal finish quality is obtained at 90° F. As can be seen, finish quality is also better (based on the lower N1) at the lower film build.
For more information, contact Saint Clair Systems or visit http://www.viscosity.com.
About Saint Clair Systems: Saint Clair Systems is the global leader in fluid process control solutions that reduce scrap, rejections, solvent usage, labor and harmful emissions while also improving the bottom line. The company has installed over 3,600 systems globally in industries such as automotive finishing, industrial finishing, sealer and adhesive dispensing, coil coating, and a host of others.