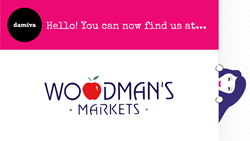 Creating 100% natural products that satisfy unmet needs is our formula for success.
TORONTO (PRWEB) February 15, 2018
On the success of the company's launch into retail drugstore chains, Damiva has expanded into the retail segment of health food stores and grocery pharmacies, with the addition of several U.S. distributors such as Kehe, SuperValu, Certco and new chains including Woodman's and The Fresh Market.
Founded by Chia Chia Sun, CEO, and Gardiner Smith, President, Damiva is a women's health company that develops 100% natural personal care products including feminine hygiene, beauty and skincare.
"All of us at kathy ireland® Worldwide and Level Brands congratulate Chia Chia and Damiva on this great and important expansion into health food stores and grocery pharmacies across the U.S.," says Kathy Ireland, Chair, CEO and Chief Designer of kathy ireland® Worldwide, and Chairman Emeritus and Chief Brand Strategist of Level Brands. "kiWW® and Level Brands are passionate about disrupting the women's health products landscape and bringing natural and sustainable women's products to the American market. We celebrate our new retail partners for joining us in fulfilling one of our Millennial Development Goals by bringing Damiva's 100% natural personal care to women across the U.S."
"As a woman over 40, my goal was to create new products that women need throughout our lives, especially as we age," says Chia Chia Sun. "Creating 100% natural products that satisfy unmet needs is our formula for success and the recognition by retailers from multiple channels highlights the fact that women are seeking completely natural, transparent alternatives."
While Damiva's products can be used by women of any age, women going through the extreme hormonal fluxes of childbirth, post-cancer treatment, peri-menopause and menopause can benefit from the all natural formulations that do not have added parabens, chemical preservatives or other hormonal disruptors.
Together with kathy ireland ® Health and Wellness and Level Brands Inc., Damiva is working to change how the world thinks of taboo topics such as vaginal dryness while working closely with women on new products to develop. Damiva's products - including a vaginal suppository, Mae by Damiva, and a labial moisturizer, Cleo by Damiva - are recommended by gynecologists, urologists, oncologists, pelvic health physiotherapists and other health professionals in the U.S. and Canada.
Damiva products are sold on the feminine hygiene shelf in pharmacies and health food stores. They are pH optimized, contain plant-only ingredients and are not tested on animals. Please visit http://damiva.com/ for more information on Damiva and the company's breakthrough product lines.
Keep up to date with Damiva on facebook.com/dameanddiva and stay tuned for news about the company's exciting launch of beauty and skin care products in 2018.
——————
About Damiva Inc.
Damiva Inc. (http://www.damiva.com) develops, manufactures and distributes innovative natural products for women, and sells coast-to-coast across North America. A pioneer in the women's health space, Damiva was founded to create new products – made for women by women – that address important medical needs.
About Level Brands, Inc.
Level Brands creates bold, unconventional and socially responsible branding for leading businesses, with a focus on corporate brand management and consumer products marketing art, beauty, fashion, health & wellness, travel and entertainment. Licensed brand marketing is at the core of the Level Brands' businesses: Ireland Men One, or I'M1, for millennial men and the women who love them; Encore Endeavor One, or EE1, corporate brand management and producer of experiential entertainment events and products across multiple platforms; kathy ireland® Health & Wellness; Beauty & Pin-Ups, Level Brands' hair care and disruptive women's products brand. For more information, please visit: http://LevelBrands.com.
About kathy ireland® Worldwide (kiWW®)  kiWW® is listed as one of the most powerful brands in the world by License Global Magazine. Kathy Ireland is named by License Global as one of the 19 most influential women in the licensing industry. Kathy is the subject of multiple Forbes magazine covers, domestic and international, and Furniture Today magazine names Ireland the 18th most influential leader in the furniture industry . According to Fairchild Publications, Kathy Ireland® is one of the 50 most influential people in fashion.  kiWW® is responsible for billions of dollars in retail sales. kiWW® is the recipient of multiple awards including several Good Housekeeping Seals.
Kathy and kiWW® support many non-profits including: YWCA Greater Los Angeles for which she is an Ambassador, Dream Foundation, Providence Educational Foundation, 911 for Kids/AEF, and the St. Jude Children's Research Hospital. Kathy is named an Ambassador for the Elizabeth Taylor AIDS Foundation.
Forward-Looking Statements
This press release contains certain forward-looking statements that are based upon current expectations and involve certain risks and uncertainties within the meaning of the U.S. Private Securities Litigation Reform Act of 1995. Such forward-looking statements can be identified by the use of words such as ''should,'' ''may,'' ''intends,'' ''anticipates,'' ''believes,'' ''estimates,'' ''projects,'' ''forecasts,'' ''expects,'' ''plans,'' and ''proposes.'' These forward-looking statements are not guarantees of future performance and are subject to risks, uncertainties, and other factors, some of which are beyond our control and difficult to predict and could cause actual results to differ materially from those expressed or forecasted in the forward-looking statements. You are urged to carefully review and consider any cautionary statements and other disclosures, including the statements made under the heading "Risk Factors" in Level Brands, Inc.'s Annual Report on Form 10-K for the fiscal year ended September 30, 2017 as filed with the Securities and Exchange Commission (the "SEC") on December 26, 2017 and our other filings with the SEC. Level Brands, Inc. does not undertake any duty to update any forward-looking statements except as may be required by law.
Contact:
Press Inquiries for Damiva Inc:
President
Gardiner Smith
304-982-1240
gardiner(at)mydamiva.com
Press Inquiries for Kathy Ireland®, kathy ireland® Worldwide and Level Brands:
Rona Menashe
310.246.4600
rona(at)guttmanpr.com