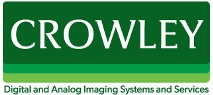 With Canon's 120 megapixel image sensor, we will develop the MACHCAM 120, a camera that can be used in machine vision applications and to digitize archival materials at an extremely high resolution, meeting stringent imaging guidelines...
FREDERICK, Md. and LAS VEGAS (PRWEB) January 05, 2018
The Crowley Company will exhibit as one of Canon U.S.A., Inc.'s visionaries at the Consumer Technology Association's CES® expo in Booth 16206. The firm will demonstrate the use of Canon EOS 5Ds R cameras in its digital imaging operations and will highlight a concept camera utilizing Canon's 120-megapixel (MP) image sensor.
"We are excited to introduce The Crowley Company as one of Canon's visionaries at this year's CES," said Ross Held, senior vice president and general manager, Imaging Technologies and Communications Group, Canon, U.S.A., Inc. "By leveraging our technologies to explore the development of Canon's 120- megapixel image sensor into a high-resolution camera, The Crowley Company is innovating new concepts of imaging and showcasing the true essence of being a Canon visionary."
Notes Christopher Crowley, The Crowley Company president, "We've successfully engineered a 71MP camera for use in the security, machine vision and cultural heritage industries. With Canon's 120-megapixel image sensor, we will develop the MACHCAM 120, a camera that can be used in machine vision applications and to digitize archival materials at an extremely high resolution, meeting stringent imaging guidelines such as FADGI, metamorfoze and others." He continues, "As the preservation and records management industries rapidly move toward a consolidation of imaging specifications, it is essential that cameras and scanners are developed to meet these specs. Currently, there are very few products on the market – and none that are complete at this resolution – that can meet these specifications."
The Crowley Company has one of the largest service bureaus in the nation headquartered in Frederick, Maryland. The bureau employs, among other Canon products, an impressive number of Canon EOS 5Ds R cameras with specialized lenses to digitize images from photographs, film negatives, color slides, glass plates and other graphic arts media. "We use Canon cameras for their speed, image quality and durability," says Crowley. "The collections that we digitize number in the millions of images, such as those completed for the LIFE Photo Archive. Each image is digitized manually so we are constantly on the search for products and processes that enhance productivity while ensuring maximum image quality. Canon superior technology and quality has been a good fit."
The firm also manufactures the production-level Mekel Technology and Wicks and Wilson brand microfilm and microfiche scanners and overhead document scanners that are used worldwide to digitize large volumes of microform, books and other materials for in-house or public access. As with the MACHCAM 120, Crowley continues to engineer and manufacture digitization solutions for proprietary and commercial use.
Visitors to CES® can stop by Booth 16206 to discuss cultural heritage digitization and machine vision applications with Crowley and Canon professionals.
About The Crowley Company
The Crowley Company is a world leader in digital imaging technologies and services, manufacturing and utilizing front-end capture systems for the purposes of archival preservation and records management.
About Canon USA, Inc.
Canon U.S.A., Inc., is a leading provider of consumer, business-to-business, and industrial digital imaging solutions to the United States and to Latin America and the Caribbean (excluding Mexico) markets. With approximately $29 billion in global revenue, its parent company, Canon Inc. ranks third overall in U.S. patents granted in 2016† Canon U.S.A. is committed to the highest level of customer satisfaction and loyalty, providing 100 percent U.S.-based consumer service and support for all of the products it distributes in the United States. Canon U.S.A. is dedicated to its Kyosei philosophy of social and environmental responsibility. In 2014, the Canon Americas Headquarters secured LEED® Gold certification, a recognition for the design, construction, operations and maintenance of high-performance green buildings. To keep apprised of the latest news from Canon U.S.A., sign up for the Company's RSS news feed by visiting http://www.usa.canon.com/rss and follow us on Twitter @CanonUSA. For media inquiries, please contact pr(at)cusa.canon(dot)com.
† Based on weekly patent counts issued by United States Patent and Trademark Office.
About CES®
CES® is the world's gathering place for all who thrive on the business of consumer technologies. With over 170,000 attendees from more than 150 countries, CES® is a platform for innovators of all sizes to build their brands. Every major technology company on the planet participates in CES in some way — by exhibiting, speaking, sponsoring, attending or holding co-located events and business meetings.
#CES2018 #crowleyscans #canonusa