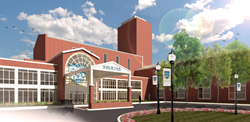 At Shrub Oak, as we set the gold-standard for special education in the 21st century, we will always be looking to draw upon the best resources the autism community has to offer.
SHRUB OAK, N.Y. (PRWEB) January 03, 2018
Shrub Oak International School ("Shrub Oak"), a new, world-class special education boarding and day school serving an international population of young adults on the Autism spectrum, today announced that five renowned, visionary educators, clinicians, researchers and counselors have joined its advisory board.
The new advisory board will help guide Shrub Oak administrators and staff in achieving the school's mission to advance autism education by providing the field's most progressive academic and therapeutic approaches as it helps students prepare for a purposeful, independent future. The new advisory board members include:

Simon Baron-Cohen, Ph.D., Fellow of the British Academy (FBA), a clinical psychologist and professor of developmental psychopathology at the University of Cambridge in the United Kingdom, where he serves as Director of the University's Autism Research Centre and a Fellow of Trinity College. Over his distinguished career, Dr. Baron-Cohen has achieved international acclaim for groundbreaking research in the fields of autism prevalence and screening, autism genetics, autism neuro-imaging, autism and technical ability, and synaesthesia.
Jeffrey J. Guenzel, MA, LPC, a professional counselor who has dedicated his career to serving children and families. Since 2013, he has served as CEO of the Interdisciplinary Council on Development and Learning (ICDL). Before joining ICDL, Mr. Guenzel was Deputy Commissioner of the New Jersey Department of Children and Families and also served as Director of the New Jersey Division of Child Behavioral Health. In these positions, he launched pioneering initiatives including restructuring of the state's service delivery system for children with developmental and intellectual disabilities.
Alexander Kolevzon, M.D., a Professor of Psychiatry and Pediatrics at the Icahn School of Medicine at Mount Sinai and serves as the Clinical Director of the Seaver Autism Center and Director of the Child Behavioral Health and Science Center for the Mount Sinai Health System. Dr. Kolevzon completed his residency and fellowship training (child and adolescent psychiatry) at Mount Sinai and joined the faculty upon graduating. His research interests pertain to understanding the neurobiology of Autism Spectrum Disorder (ASD) and developing innovative therapeutics. Most recently, his research group has focused on studying specific genetic forms of autism, including Fragile X syndrome and Phelan-McDermid syndrome.
Brenda Smith Myles, Ph.D., one of the most prolific and respected researchers in the field of autism education. Dr. Myles serves as Associate Professor in the Department of Special Education at the University of Kansas, where she co-directs the graduate program in Asperger Syndrome and Autism. She has made more than 1,000 presentations worldwide and has authored more than 250 articles and books on Asperger Syndrome and Autism. In a recent survey conducted by the University of Texas, she was acknowledged as the second most productive applied researcher in ASD in the world. Her landmark book (co-authored with Diane Adreon) Asperger Syndrome and Adolescence: Practical Solutions for School Success, was named the Autism Society of America's Outstanding Literary Work.
Michael Lee Wehmeyer, Ph.D., the Ross and Marianna Beach Distinguished Professor in Special Education and Chairperson of Department of Special Education at the University of Kansas (KU). He serves as Director and Senior Scientist at KU's Beach Center on Disability, and is former director of the Center on Developmental Disabilities. His research focuses on self-determination, the application of positive psychology and strength based approaches to disability, and the education of students with intellectual or developmental disabilities. Dr. Wehmeyer has co-authored or co-edited 32 books in special education and psychology, and has written more than 325 book chapters and journal articles.
"At Shrub Oak, as we set the gold-standard for special education in the 21st century, we will always be looking to draw upon the best resources the autism community has to offer," said Gil Tippy Psy.D, Shrub Oak's co-director and head of clinical services. "Our advisory board is comprised of colleagues who are among the world's most respected thought leaders and practitioners of groundbreaking autism research and education. The caliber of people Shrub Oak is bringing together to serve our students, their families and the global autism community is truly awe-inspiring"
Shrub Oak sits on the 127 acres of bucolic, hilltop grounds of a retrofitted former-seminary in Westchester County, New York. The campus marries nature, agriculture and cutting-edge technology to provide students with a sensory experience that is unmatched by any special education boarding school in the world. The building includes a modern gym, a restaurant-quality kitchen and dining facility, modern common rooms for socializing, state-of-the art classrooms, and well-designed dormitories. The space also includes an indoor pool, an open space for robotic development and learning, and numerous career training spaces and services. Its working farm includes livestock and crops set against a backdrop of open fields and wooded trails. A state-of-the-art, 24/7 security system will be incorporated into all areas of the building and grounds.
Scheduled to open its doors to students in September 2018, Shrub Oak will ultimately have an enrollment of more than 390 residents and day students, aged 14 to 30+ years old. Each student's program will maximize therapeutic and learning opportunities, not only in the classroom but also in the dining hall; on the fields and trails; and in the residential areas as well as the neighboring community.
The school's goal is to ensure that all students will be able to achieve according to their developmental capacity. This includes employment and the ability to live as independently as possible upon graduation. In order to do so, each student will have an inter-disciplinary team of clinicians, teachers and student-life professionals who will collaborate closely to construct and implement custom programs.
Based on the IEP-development model, which focuses on a student's unique issues, while working to reinforce therapies and educational programs, the individualized programs range from rigorous academic preparation for college to learned skills for independent living and future employment. The areas of emphasis for student program include executive functioning, cooperative work, organization, time management, and task completion—all seamlessly interwoven throughout day and evening activities.
About Shrub Oak International School
Shrub Oak International School is a world-class, private, special education boarding and day school preparing students for independent adult life and employment. Serving the sophisticated needs of an international co-ed population of young adults on the Autism Spectrum, the school's innovative relationship-based program is grounded in evidence-based principles that build on each student's specific needs and interests. Shrub Oak's modern, technology-infused facility is set on 127 acres of farmland where students can learn in a natural environment, full of sensory experiences.