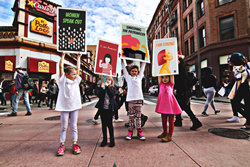 PALO ALTO, Calif. (PRWEB) January 03, 2018
Tangelo just announced the worldwide release of an iOS application called WalkWoke, providing users the ability to create, share, and print beautiful and impactful protest signs on-the-fly. The app is the first of its kind, specifically designed to promote empathy through emotionally charged social and political art with customizable slogans to drive change at marches, protests, rallies and online in social media.
Protests and marches have long since been a means for people to voice opinions and enact change. When we use our voices, we influence others to alter their skewed beliefs and attitudes. WalkWoke was developed from a culmination of our diverse teams' unique experiences with Women's Rights and the Resistance Movement including: harassment, rape, domestic violence, and injustices to immigrants and minority groups.
WalkWoke was created by Tangelo, a 100% multi-faceted diverse company founded and built by immigrants and women. We credit our success to our global remote team built by our holistic hiring practices and fulfilling all criterias of diversity. Diversity is inherent in Tangelo's core values. We have had enough of being abused, harassed and discriminated against. We are determined to create real change with WalkWoke to promise our children a life of equality and actively fight for and support immigration rights, disability rights, civil rights, health care equality, environmental justice, LGBTQIA rights and more.
WalkWoke's gallery of over 50 unique protest signs makes it possible for anyone to stand up and make a difference while building a community of like-minded activists both during and after rallies and marches. Each poster is centered around powerful and empathetic artwork drawn by real artists of the Resistance and are fine-tuned for optimal impact. WalkWoke also offers users an opportunity to submit their own artwork for consideration for inclusion in the app. WalkWoke's powerful protest signs allow activists to take a stand against hatred, violence and ignorance.
We are excited to witness the continued impact of WalkWoke as we support the upcoming 2018 Women's Marches and the dozens of other Resistance Movement and grassroots protests to follow in cities including, but not limited to: Los Angeles, San Francisco, Las Vegas, New York City, Philadelphia, Washington, D.C., Boston, and Denver.
Make a Difference. Join the Resistance. Download WalkWoke from the App Store today.
About Tangelo: Founded in 2007, Tangelo is an Innovation Lab and Venture Studio based in Palo Alto, CA.