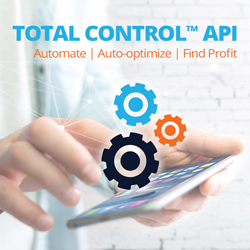 With our Total Control™ API, Go2mobi brings a toolset for mobile advertising that is significantly more flexible and powerful to meet the growing needs of our clients' specific use cases
VICTORIA, B.C. (PRWEB) January 05, 2018
Go2mobi, an industry leading self-serve mobile demand side platform (DSP), turns the levers of control over to mobile advertisers, providing them with the tools and technology to target, report on, and optimize every aspect of their mobile advertising campaigns. Go2mobi's Application Programming Interface (API) allows agencies, trade desks, and performance marketers to leverage the power of its mobile programmatic DSP to build anything from time-saving workflows, customized bidder logic, to full-blown custom DSP platforms.
Go2mobi's Total Control™ API gives those looking to build custom advertising solutions a head start with industry-leading real time bidding (RTB) infrastructure that processes over 1,000,000 queries per second. Go2mobi's light account setup and dedicated specialists dramatically accelerate time to value. Developers and media buyers can go to market quickly with custom campaigns leveraging the functionality, speed, ease-of-use and high call limit of Go2mobi's Total Control API™.
With Go2mobi's API, advertisers can achieve a variety of efficiencies, including automating micro-campaign creation, automating campaign optimization, integrating the Total Control API with their spreadsheet software, integrating Go2mobi features directly into their own tracking platforms and creating data visualization and unified reporting.
For advertisers using the API, Go2mobi's experienced account managers provide technical support every step of the way, ensuring their customers achieve maximum results. Thorough, user-friendly API documentation is also publicly available on Go2mobi's developer site.
"With our Total Control™ API, Go2mobi brings a toolset for mobile advertising that is significantly more flexible and powerful to meet the growing needs of our clients' specific use cases," said Tom Desaulniers, president and co-founder of Go2mobi.
Customers taking advantage of Go2mobi's API are already seeing tremendous results. Helmkin Digital, a leading digital marketing agency, leveraged Go2mobi's API to pull mobile campaign data into their own reporting interface, and created geo-targeted, day-parted micro-campaigns that followed a political candidate's campaign trail in order to create buzz, and drive donations and support.
"The applications we've built to leverage Go2mobi's API have saved us countless hours in reporting and campaign creation," said Jeff Shannon, Helmkin's co-founder. "We built a quick interface that allowed us to upload dates and locations via spreadsheet in order to create geo-targeted, day-parted campaigns for every campaign stop on the trail."
While this is just one specific use case of the Total Control™ API, Go2mobi has seen its customers come up with several creative ways, in multiple verticals, of leveraging their robust programmatic tool. The Total Control™ API extends key capabilities addressing what advertisers and agencies have been waiting for: a highly effective and versatile customizable mobile programmatic tool. To access a full list of the Total Control API features click here.
About Go2mobi: Go2mobi is a mobile-first advertising platform that helps agencies, brands, trading desks, and app marketers reach the specific mobile audience segments that drive performance and ROI. Go2mobi's industry-leading technology helps advertisers target their ideal audiences in the specific moments that drive engagement and conversion. Go2mobi continues to wow the world's biggest brands and agencies with their innovative platform, unparalleled commitment to customer service, and ability to target, report, and optimize on a campaign's most granular data points.