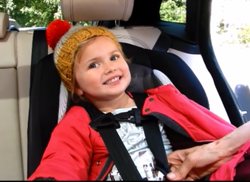 Ingenious, warm, car seat safety coats end outdated winter coat dangers.
LONDONDERRY, N.H. (PRWEB) January 03, 2018
As temperatures plummet across the United States the Arctic front's frigid weather poses a danger to small children, elderly, and pets. Parents are faced with an additional dilemma during low temps due to NHTSA's recommendation to take traditional puffy coats off before using the car seat due to the danger the puffiness of the coat causes during a crash. Taking the coat off, however, not only exposes children to dangerously low temperatures outside of the car but also can create additional hazards in the event of a rollover where blankets and backwards coats can be tossed and inaccessible as families await rescue services.
Buckle Me Baby Coats, a New England startup solves this danger for parents with a coat created for the car seat. Dahlia Rizk, a New Hampshire mother of three children, designed the coat to open along the side and shoulder seams allowing the harness to sit directly on the chest and shoulders, eliminating the need to take the coat off. This allows children to stay safely buckled while also warm both outside and inside the car as well as in the event of a rollover.
Buckle Me Baby Coats are available online through the website http://www.bucklemecoats.com and demonstrations of how the coat works can be found here: https://www.youtube.com/watch?v=4cVKj5lleXI