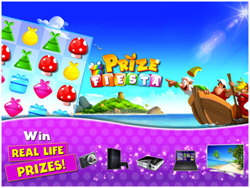 CUPERTINO, Calif. (PRWEB) January 03, 2018
People who want to take their love of match 3 gaming to a whole new level, can now feast their senses — and indeed, foist their addiction — on Prize Fiesta: the first match 3 game that delivers actual prizes to each winner's home.
Prize Fiesta rewards players loyalty — time on the game increases the chances to win — and is therefore a great way to win prizes without any gambling whatsoever. In fact, the prize awarding processes were prepared by US and EU attorneys and guarantees that no gambling is involved and that they comply with local laws.
Prize Fiesta is available at no cost for iPhone, iPad and Android devices, and can be also played via Facebook or the web. The game is created by Full Game Ahead, which has awarded more than $1 million to prize winners through its suite of games that include Maze Fiesta, CoinPusher Plus, Bang Up box and more.
Racking up points on Prize Fiesta is easy to understand, challenging to achieve, and addictively fun. Users try to match up three similar icons, which disappear from the game board and are replaced. Along the way, users also try to collect mushrooms and fill their piggy bank.
Once their piggyback is loaded with coins, it's off to the delightful "Prize Cavern" to browse for available prizes — such as home electronics, gadgets, devices and other goodies — which, if won, are delivered to each winner's home.
Other Prize Fiesta special features include:

14 unique dreamlike worlds to play (with more on the way)
Exceptional graphics with fast, fluid animation
Fun sound and music (with mute option for those that want to play at night, on a flight, etc.).
Several daily bonuses for users who happen to be playing at the right time.
3 different winners per week on the app's Facebook world contest
"We've taken everything that we know about what makes match 3 games fun, exciting and addictive, and elevated the experience to a new level by adding great prizes that are delivered to each winner," commented Yvelain Mazade of Full Game Ahead. "And so far, the feedback we're getting is overwhelmingly positive. People can't stop playing!"
Prize Fiesta is available for iPhone and iPad from the App Store at https://itunes.apple.com/app/prize-fiesta/id1146382027, for Android smartphones and tablets from Google Play at https://play.google.com/store/apps/details?id=com.lagoonsoft.pf, for Facebook users at https://apps.facebook.com/prizefiesta, and via the web at https://www.prize-fiesta.com.
There is no cost to download the app, and as noted there is no gambling, betting or bidding of any kind.
For all other information or media inquiries, contact Mark Johnson on behalf of Full Game Ahead at +1 408 757 0156 or press (at)appshout(dot)com.
About Full Game Ahead
Full Game Ahead has been publishing games since 2010. Since our inception, we have registered more than 3 million players on our games. FGA encourages innovation and ensures all our games bring original novelties to our audience. It is by striving to provide a dedicated customer service that we have gained the trust of millions of users.
All Full Game Ahead games are designed and created by Lagoon Software, a production studio based in the Island of Mauritius. Lagoon Software and Full Game Ahead are sister companies.
About Lagoon Software
Did you know that in the Indian Ocean, southwest of the Madagascar coast, lies a tiny island called Mauritius. Do you imagine it has zebras, giant tortoises and lemurs? Yes, it does! But it's also home to LAGOON SOFTWARE, a small company that specialises in building game applications. Lagoon Software currently counts 9 employees and friends who like to shut themselves away in their cavern despite the paradise setting and work very hard.
They're passionate about developing fun games for their players. Lagoon has been creating games for 11 years.