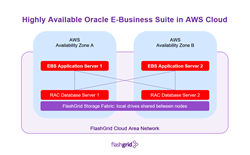 SUNNYVALE, Calif. (PRWEB) January 08, 2018
FlashGrid, Inc. has published a reference architecture and step-by-step guide for deploying Oracle E-Business Suite (EBS) in the AWS cloud with Oracle Real Application Clusters (RAC) as a highly available database backend.
Oracle EBS is used by thousands of organizations around the world for automating various parts of their operations, including fulfilling orders for some of the largest consumer product companies, managing global ERP for largest enterprises in manufacturing, payment of social benefits by government agencies and supporting core operations for many defense and national security entities (source: Oracle E-Business Suite Roadmap Update, July 2017).
Moving Oracle EBS from on premises to the selected cloud can be one of the most challenging items on the CIO's to do list as organizations plan migration of their entire IT infrastructures to the cloud.
For organizations with near-zero downtime tolerance FlashGrid has documented a reference architecture for deploying Oracle EBS in AWS with database tier nodes and app tier nodes spread across different availability zones. The proposed architecture allows maintenance and rolling updates with zero downtime and tolerates failures of any one or two VMs, depending on the configuration, or a failure of an entire AWS availability zone.
Key elements of the architecture:

Oracle E-Business Suite 12.2 with RAC database
Oracle Grid Infrastructure 12.1/12.2 enables clustering and storage management
FlashGrid Storage Fabric software enables shared storage access
FlashGrid Cloud Area Network software enables transparent Layer 2 networking between the cluster nodes
Oracle Linux 7
Amazon Elastic Compute Cloud with Elastic Block Storage and/or local NVMe SSDs
The architecture provides customers with full control of the database and the application tier nodes. The customer retains root access to the VMs, as well as their ability to customize patches and security settings in accordance with the organization's policies or regulatory requirements.
The deployment process consists of the two main phases:
1. Automated deployment of the cluster infrastructure, which also includes configuration of the Oracle Grid Infrastructure software. The process is fully automated with FlashGrid Cloud Provisioning online tool that provides experience similar to configuring Database-as-a-Service while allowing the customer full control of all resources. The process takes 1.5 hours - a two orders of magnitude improvement over on-premises deployments.
2. Standard installation of Oracle E-Business Suite with the RAC database option.
The ease of deployment and the on-demand use of the underlying infrastructure makes the highly available Oracle EBS architecture more accessible for development, testing, and training purposes, streamlining adoption of Oracle EBS and reducing project risks.
The reference architecture and deployment guide is available at:
https://www.flashgrid.io/wp-content/sideuploads/resources/FlashGrid_EBS_AWS_RefArchDeploymentGuide.pdf
"Migrating enterprise's mission critical Oracle E-Business Suite applications to the cloud has obvious benefits, but the availability aspect can be a challenge. FlashGrid software enables highly available Oracle RAC database backend in the cloud that ensures Oracle EBS users can access their data even when an entire cloud availability zone fails. Our Cloud Provisioning tool makes the deployment easy, quick, and repeatable. We are happy to share details of the architecture and encourage interested parties to contact FlashGrid for further assessment of the solution." said Alex Miroshnichenko, CEO FlashGrid.
About FlashGrid
FlashGrid Inc. is a software company headquartered in Sunnyvale, California. FlashGrid software allows large and small enterprises to run mission-critical databases on a commodity compute, storage, and network infrastructure of their choice – in the data center or in the public cloud.
FlashGrid is an Oracle Gold Partner, Cloud Standard and AWS Standard Technology Partner.
Follow FlashGrid on LinkedIn and Twitter @FlashGrid_SW for news and updates.
https://www.linkedin.com/company/flashgrid