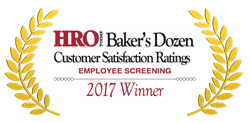 This achievement shows the continued commitment of CSS to provide the highest quality services and support to companies in all industries worldwide." –Mike Chalenski, President/CEO
(PRWEB) January 04, 2018
For the second straight year, CSS has been recognized as the industry's elite in employee screening by HRO Today Magazine. This ranking is a testament to the hard work and dedication CSS employees put forward to create intelligent solutions catered to the unique needs of our Customers. CSS's service offerings, advanced knowledge base, and customer service excellence directly contributed to being praised as one of the best providers in the industry.
More and more companies are recognizing the benefits of working with an accredited, highly acclaimed provider and realizing the cost and process efficiencies in consolidating all screening services through one provider. CSS's commitment to its Customers, innovative processes, and technological advances surpass competitors in the screening industry and are the reasons why so many companies are choosing CSS as their sole provider.
"We are beyond excited to be recognized as a top screening provider by HRO Today's Baker's Dozen for the second straight year. This achievement shows the continued commitment of CSS to provide the highest quality services and support to companies in all industries worldwide." – Mike Chalenski, President/CEO of CSS Inc.
Our experience and long-lasting presence in the screening industry allows CSS to stay on the forefront of industry changes and advancements. The HRO Today Baker's Dozen survey ranking further confirms that CSS is continuously advancing and evolving to create top-notch services unrivaled by others in the screening industry.
About CSS Inc.
CSS Inc., an award-winning screening solutions provider, delivers customized screening services to businesses worldwide. Our industry-leading 360 Advantage approach unifies background screening, drug testing, administrative solutions, and monitoring services to streamline the screening process. We offer administrative solutions that ultimately save HR professionals valuable time by alleviating tedious tasks within their screening program. CSS is proudly accredited by the NAPBS and has also achieved certification for the newly formatted EU-US Privacy Shield, as a testament to our commitment to security and data protection.