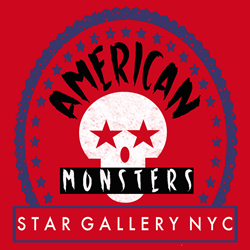 (PRWEB) January 03, 2018
American monsters are ubiquitous in our popular culture. They loom large in film, comix, and video games, and they even haunt our political landscapes. These monsters inhabit our shared dreams and collective nightmares. They provide the artist with potent metaphors, which can be used and re-imagined in a way that provides commentary on our culture. These new demons make up the iconography of America's shadow self.
Star Gallery is pleased to welcome you to our inaugural exhibition, "American Monsters," located on Manhattan's Lower East Side at 2 Rivington Street. An all-star roster of established illustrators and vital, new, young artists are part of this exciting group show. The list of artists includes Armando Veve, Thomas Fluharty, Hal Hefner, Steven Tabbutt, Anthony Freda, Devin Clark, Danny Hellman, Christopher Buzelli, Katherine Streeter, Taylor Callery, Sol Robbins, Brian Stauffer, Billy the Artist, Ellen Weinstein, David Miller, David Flaherty, David Goldin, Epyon5, Dino Rinaldi, Zhang Yiqing, Dan Zollinger, Alfred Albrizio, Nich Chiechi, Marissa Mahabir and Gavin Simmons.
The work of these award-winning artists has graced the pages of Time, The New Yorker and Rolling Stone and has even appeared on U.S. Postage stamps.
We are excited to share these new, compelling visions of the "American Monsters" theme with the world. Live entertainment, light food, and drinks will be provided at the opening, which promises to be a night to remember. The opening is planned for Saturday, February 10, 2018 from 6-10 pm.
Five percent of profits will benefit Women for Women International, an organization that helps empower female survivors of war in third world countries.