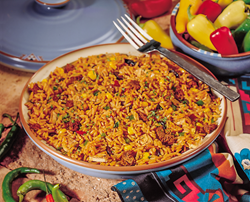 OPELOUSAS, La. (PRWEB) January 03, 2018
Whether in the French Quarter of Louisiana, or the beaches of California, Mardi Gras just isn't the same without some fresh and spicy Jambalaya. Tony Chachere's Creole-inspired Jambalaya recipe is easy to make. Just throw everything in a skillet and in 30 minutes, you'll have a feast packed full of flavor – for Mardi Gras or anytime of the year.
Tony Chachere's Famous Creole Cuisine® has been a fixture in kitchens across the nation for decades, with a particular presence in the Southeast. While its authentic lines of Creole products are top-notch for all sorts of dishes, its marinades, mixes and seasonings are a must-have.
TONY CHACHERE'S JAMBALAYA FIESTA
INGREDIENTS
½ Pound Ground Beef or Pork
1 Box Tony Chachere's Jambalaya Mix
2 ¼ Cups Cold Water
1 Cup Diced Chicken Breast
1 Can Mexican-style Corn
1 Can Black Olives
1 Tbsp. Lemon Juice
PREPARATION
Prep Time: 5 Minutes
Cooking Time: 25 Minutes
Serves: 6
1. In a large skillet, brown ground beef or pork.
2. Drain any excess oil.
3. Add to beef or pork, Tony Chachere's Jambalaya Mix, water, chicken, corn, olives and lemon juice.
4. Bring to a boil and reduce heat.
5. Cover and let simmer for 25 minutes, stirring occasionally.
Tony Chachere's Famous Creole Cuisine® was founded in 1972 by Tony Chachere, the "Ole Master" of Creole cooking. Tony Chachere's continues to be family owned-and-operated and is located in Opelousas, Louisiana. You can get more Tony Chachere's recipes and products by visiting tonychachere.com/Recipes.aspx And for all of the cooking tips you need, go to tonychachere.com/Video.