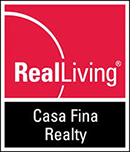 Whether the real estate market is up or down, we always strive to offer the best customer service possible to our clients.
TAMPA, Fla. (PRWEB) January 04, 2018
Buying or selling a home is one of life's most rewarding and challenging experiences. But that doesn't mean it has to be one of the hardest. Real Living Casa Fina Realty makes the process easier by offering home buyers and sellers a trusted partner with years of experience and knowledge in the Tampa Bay real estate market.
For those looking for real estate experts in Tampa Bay, Real Living Casa Fina Realty provides the right set of support, tools and information for both buyers and sellers.
The expert agents at Casa Fina Realty focus on serving the needs of customers. That's reflected in the agency's 99 percent Customer Service Satisfaction rating. Casa Fina Realty is part of the Real Living Real Estate network, named "Real Estate Brand of the Year" and "Most Trusted" in the 2017 Harris Poll.
Finding your dream home is just a few clicks away with Casa Fina Realty's active listing of Florida properties. Whether it is a primary residence or an investment property, the agents at Casa Fina Realty will become a home buyer's partner in their real estate search.
Listing your home also has never been easier. With Casa Fina Realty, home sellers have a trusted advisor on their side throughout the process. The agency's team members are skilled negotiators who will get the most for sellers from their property sale, as well as offer expert knowledge and skills for facilitating a closing.
"Our success comes from keeping our focus on two important factors: providing old-fashioned customer service and also making use of the latest technology," said Nick V. Parrinello, owner of Casa Fina Realty. "Whether the real estate market is up or down, we always strive to offer the best customer service possible to our clients."
Casa Fina knows Tampa Bay real estate like no other agency. The agency has worked in the area since 2003. The Casa Fina team brings a strong network to their partnership with buyers or sellers, along with powerful marketing and support services.
Agents looking for a rewarding place to put their real estate knowledge and skills should also consider Casa Fina. The growing agency considers both veteran and new agents, believing the right mindset, focus on customers and expert-level real estate knowledge proves a winning combination no matter the agent's years of experience.