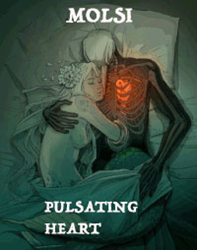 ORLANDO, Fla. (PRWEB) January 03, 2018
On New Year's Day, 2018, the multi-media company MOLSI Productions released its debut musical concept album: "MOLSI – Pulsating Heart". "Pulsating Heart" compliments the avant-pop and indie soft-rock musical genres. Thematically, MOLSI's "Pulsating Heart" explores the vast range of human emotions experienced by those who have fallen in and out of love. "Pulsating Heart" offers in-depth commentary on both the positive and negative aspects of romantic love and the mind games that can come along with it. Throughout the album's musical journey, the protagonist at the center of Pulsating Heart's story undergoes happiness, intrigue, fascination, over-idealization, desperation, rejection, dark despair, and ultimately achieves a sense of closure over a romantic relationship that begins with great promise but falls apart in the end. The album's songs tell the emotionally-charged story of the protagonist meeting a romantic interest, falling deeply in love with that person, but then undergoing extreme personal hardship as he pursues his love interest. The album also touches on the theme of rampant materialism and how it can disrupt the potential for genuine love in our modern society and cause unrealistic expectations to exist in the minds of both sexes.
Sonically, Pulsating Heart is quite dynamic in scope. The album's songs range from romantic piano-based love ballads with densely layered vocal harmonies to dark alternative Rock songs intricately layered with effects-heavy electric guitar and baroque synthesizer phrasings. The album also contains high-brow avant-garde instrumental passages. Throughout the album, obscure and highly modified samples are woven into the fabric of instrumentation present in the album's 13 songs. The album's songs range from minimalist expressions lasting only 30 seconds (theatrical skits that appear between songs) to ambitious and complex anthems lasting nearly 7 minutes.
Considering Pulsating Heart's dynamic sonic character, it may surprise the listener to learn that the entire album was developed and produced through the efforts of a single individual (Jack Molsi, who also goes by "MOLSI") doing all of the writing, instrumentation, as well as the recording, mixing, and mastering of the album's content. Pulsating Heart was entirely written and recorded in a 450-square foot one-bedroom apartment/hotel in Coconut Grove, Florida. No professional or industrial help was sought out by MOLSI throughout the production process. MOLSI used inexpensive, bottom-of-the-barrel, musical equipment to create the work. MOLSI himself describes the LO-FI "Pulsating Heart" as "an audiophile's worst nightmare" and when asked about the presence of "hiss" in some of the album's recorded tracks, MOLSI responded by saying: "What's the big deal about the hiss? Listen to the air outdoors. The wind is God's hiss. Life is noisy and erratic and yet according to industry standards, musical recordings are supposed to sound entirely pristine. Art should not be bleached to the point that it becomes devoid of personality or out of touch with reality."
A 29-minute preview of MOLSI's "Pulsating Heart" is available for free on YouTube (https://www.youtube.com/watch?v=gGLfSB2bFlY) and the full album can be downloaded at http://www.molsi.net by way of MOLSI Productions' partnership with independent music distributor CD Baby.