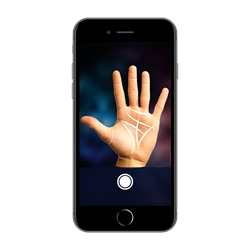 (PRWEB) January 04, 2018
PalmistryHD combines the ancient and mystical art of palm reading with cutting-edge technology. The results are fast, accurate and entertaining palm readings for anybody interested in taking a peek into their future. It's never been easier – or more enjoyable – to prepare for the twists and turns that life is destined to take!
Upon installing the free app, users of PalmistryHD will be invited to hold their hand before the camera of a phone or tablet. The app will scan the lines contained within the palm of the hand, which will be analyzed by sophisticated palm reading software. The results will then be available to read on the spot.
The lines in any palm can reveal more about a personality and the future than many of us would think possible. A diagram will be displayed on the screen that explains what each and every marking etched into the hand represents – and much like a fingerprint, these lines are unique to every individual. This means that any user can be assured that the reading is bespoke and tailored to their personal profile.
Palmistry utilizes the elements of earth, water, fire and air, with each finger atop the palm representing a different element. The way these lines fall, cross and intersect will shine a light on the lifestyle and future of the user. The insights provided will also be able to assist anybody in making sense of their personal relationships and decision-making processes. What's more, insights will also be provided into Love and Relationships, Fitness and Health, Success and Happiness, and Career and Money.
The palm reading app also has a number of additional features that will delight anybody with an interest in astrology. Upon installation, users can enjoy a month of complimentary daily horoscope readings. What's more, anybody hungering for more information surrounding their palm and the messages contained within can unlock a more detailed reading for a small fee. This will truly dive deep into a number of different areas of the future, divulging information that is certain to fascinate anybody. This will even include what the shape of a user's palm says about them – another element of palmistry.
PalmistryHD is free on the iOS and Google Play app stores, and is compatible with all leading smartphones and tablets.
More info:
Website: https://stellarpalmistry.com
iOS app version: https://itunes.apple.com/nl/app/palmistryhd/id1324828998?l=en&mt=8
Android app version: https://play.google.com/store/apps/details?id=com.stellarpalmistry.app
Youtube: https://www.youtube.com/watch?v=r1u_qAK2U5s