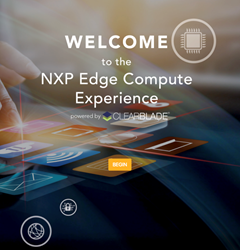 "Providing cloud agnostic deployment and powerful edge computing capabilities requires collaboration with technology leaders" Eric Simone, CEO of ClearBlade
AUSTIN, Texas (PRWEB) January 04, 2018
ClearBlade, Inc., the enterprise Internet of Things (IoT) software company to rapidly engineer and run secure, real-time, scalable IoT applications has announced a collaboration with NXP® Semiconductors that will see the integration of the ClearBlade Edge Platform into NXP's 'Artful Intelligence' Edge Compute Experience.
Together, ClearBlade and NXP are working to deliver high-performance IoT applications that leverage edge computing capabilities that can be easily replicated across many verticals including smart building, connected construction, transportation, retail, smart home, and other industry-specific solutions, providing enhanced performance, reliability, security, and device management capabilities. The combination of NXP products and ClearBlade software also allows companies to drastically reduce the risk and cost of IoT at scale.
"Providing cloud agnostic deployment and powerful edge computing capabilities requires collaboration with technology leaders," said Eric Simone, CEO of ClearBlade, Inc. "NXP delivers the most advanced edge computing and sensor technology in the IoT market. When combined with ClearBlade's industry leading IoT Edge Platform software, this relationship provides companies with the tools necessary to build complex and secure IoT solutions, rapidly."
NXP Semiconductors will showcase a new comprehensive and personalized edge-computing and artificial intelligence (AI) experience to NXP VIP guests at CES 2018 in Las Vegas, January 9-12. Visitors will experience the future of edge computing with hands-on demonstrations of machine learning based facial recognition, robust remote device management, secure device provisioning to the cloud, and other edge processing capabilities integrated with the ClearBlade IoT Edge Platform.
"The rapid development of IoT, edge computing and decentralized artificial intelligence is creating a major challenge for our customers," said Denis Cabrol, general manager of NXP solutions. "By combining NXP technology with the Clearblade software platform, we enable complete solutions that will be showcased at CES 2018."
To schedule a tour of the NXP Edge Compute Experience during CES 2018, please contact pr(at)nxp(dot)com.
About ClearBlade, Inc.
ClearBlade is the enterprise Internet of Things software company to rapidly engineer and run secure, real-time, scalable IoT applications.
ClearBlade enables companies to build IoT solutions that make streaming data actionable by combining business rules and machine learning with powerful visualizations and integrations to existing business systems. Built from an enterprise-first perspective, the ClearBlade Platform runs securely in any cloud, on-premise, and at the edge.
The ClearBlade Edge brings the full power of the ClearBlade Platform to gateways and industrial servers on the plant floor, job site or building facility. Safely behind the firewall, the ClearBlade Edge intelligently syncs with the ClearBlade Platform guaranteeing security, connectivity, execution and speed.
ClearBlade is developer focused with an extensive library of proven and tested pre-built components and integrations. ClearBlade accelerates the time–to-market while significantly reducing the cost and risk of delivering IoT solutions, creating new business models and revenue streams.
ClearBlade is headquartered in Austin, TX. For more information about the company and our software, please visit https://clearblade.com/.
© ClearBlade Inc. All rights reserved