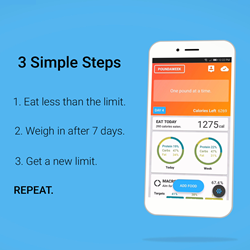 Nearly all dieters (90-95%) regain the weight they lost within one to five years, Poundaweek looks to solve this problem. - John Khtaria (CEO)
VANCOUVER, British Columbia (PRWEB) January 08, 2018
The appropriately named app, Poundaweek (Pound-A-Week) aims to help its users do just that - lose one pound a week by eating the amount of nutrients and calories determined by the built in Artificial Intelligence. Unlike other food logging apps where nutrition targets are only provided once at the onset based on a generic formula - Poundaweek continues to adjust the targets every week based on the foods that were eaten, exercises that were performed and the actual changes to a users body weight. It is scientifically proven that a person's metabolism slows down as they lose weight, these weekly adjustments become vital to ensure continued weight loss and to prevent a user from plateauing.
Based on a recent study, it was concluded that nearly all dieters (90-95%) regain the weight they lost within one to five years, Poundaweek looks to solve this problem by implementing a slow and steady philosophy that allows dieters to cultivate and maintain changes to their eating habits by following 3 simple steps:
1. Eat less than the calorie limit the AI sets.
2. Weigh in after 7 days.
3. Get a new limit based on your progress.
Repeat until weight goal reached.
Weekly weigh-ins plot your progress – a visual reminder of your current achievements. To track eaten foods there is a searchable food database and the ability to scan barcodes on product boxes using your phone's camera. Also, with the meal snap feature that uses image recognition, users can take a picture of their meal and instantly get all the foods in it. Poundaweek also provides very affordable access to personal trainers - ask for an exercise routine or a meal plan all from within the app and get a response from a real person.
This calorie counter app aims to make weight loss simple and attainable. Together with its auto adjusting nutritional targets, diet coaching and motivational messaging it understands that life happens - with weekly goals rather than daily restrictions this app sets dieters up for long term weight loss success.
Free to use on Android:
Get It On Google Play
Coming soon to Apple's iOS:
Sign up at poundaweek.ca to get notified.