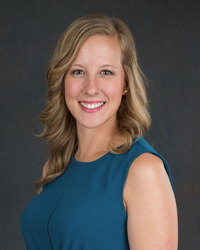 Brittney Beck named the 55th Nationally Certified Résumé Writer (NCRW) in the country!
HINSDALE, Ill. (PRWEB) January 04, 2018
After successfully completing a rigorous examination process, Brittney Beck was named the 55th Nationally Certified Résumé Writer (NCRW) in the country on December 8, 2017.
Beck, Senior Associate Résumé and LinkedIn Profile Writer at Vocamotive, joins her counterpart, Chief Résumé Writer Adam Zajac, in holding this distinguished certification.
In an industry comprised of mostly solo practitioners, Vocamotive is now the only firm in the U.S. with two NCRW's on staff. The NCRW is the gold standard of résumé writing certifications and is awarded by the nonprofit National Résumé Writers' Association (NRWA).
"Job seekers working with an NCRW are already at an advantage due to the knowledge and credibility an individual with that designation possesses," Beck says. "With both myself and Adam now holding this title, we are able to offer clients unparalleled service, multiple perspectives, and the most up-to-date technical expertise."
Beck and Zajac are also among the youngest NCRW's and as such, offer a fresh viewpoints and relevant expertise.
Paired with backgrounds in job placement, recruiter coordination, and job search training, Beck and Zajac are prepared to assist clients with navigating the modern career search process.
"With 15+ years of résumé writing expertise between the two of us, we possess the multifaceted background in career services required to strategically brand our clients (management through executive level professionals) for success in today's ever changing job search environment," Zajac says.
Based in Illinois, Beck and Zajac assist clients worldwide in honing career targets and with developing a unique brand that enables individuals to achieve success when job searching in a competitive marketplace.
About Vocamotive:
Founded in 1992, Vocamotive exists to empower individuals of all backgrounds by providing career guidance and expertise. With service offerings including résumé and LinkedIn profile writing, interview preparation, career strategy coaching, and employment document creation, Vocamotive has assisted thousands in pursuing new career opportunities.