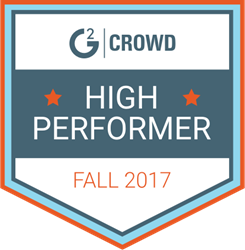 What I like the most in Mura is the comprehensiveness of the feature set. It means that we need very few plugins (if any at all) to run exactly the site we need, which makes updating the system a breeze
SACRAMENTO, Calif. (PRWEB) January 09, 2018
The Mura Digital Experience Platform was named a high performer from the G2 Crowd Best Web Content Management Software rankings for the 3rd consecutive quarter. The best Web Content Management Software products are determined by customer satisfaction (based on user reviews) and scale (based on market share, vendor size, and social impact) and placed into four categories.
Mura received very high marks in the customer satisfaction category, based on reviews written by business professionals who use Web Content Management systems as part of their job.
"What I like the most in Mura is the comprehensiveness of the feature set. It means that we need very few plugins (if any at all) to run exactly the site we need, which makes updating the system a breeze," said reviewer Damian B.
In addition, Mura is ranked in the top 5 for small, medium and large businesses ranking ahead of Adobe Experience Manager, Oracle Web Center, Sitecore and Drupal, among others.
blueriver CCO and Mura co-founder, Sean Schroeder is delighted to be included again:
"We're honored to be named as a high performer. It fulfills our mission to help marketers, content and product managers, and developers meet the increasingly complex challenge of creating meaningful, content-driven digital experiences, while being the glue that brings multiple teams together to succeed."
blueriver is preparing for the launch of Mura 7.1 in early 2018 bringing Content-as-a-Service, and immutable architecture to the robust and flexible platform that already includes content personalization and more.