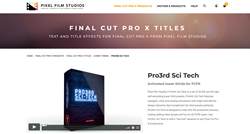 This New plugin has 30 Sci-Tech Lower Thirds
ALISO VIEJO, Calif. (PRWEB) January 03, 2018
Pixel Film Studios' Pro3rd Sci-Tech is a set of 30 left and 30 right self-animating lower third FCPX presets. Pro3rd Sci-Tech features energetic, vivid, and pulsing animations with bright and electric design elements that compliment the third presets perfectly. Pro3rd Sci-Tech is designed to help with the production process, making editing titles simple and fun for all FCPX users. Use Pro3rd: Sci-Tech to add a "neo-noir" essence to any Final Cut Pro X productions.
Pro3rd Sci-Tech includes 30 left and 30 right presets that focus on energetic as well as pulsing animations that compliment each other. In addition, there is no need key-framing with our Pro3rd series, all thirds are animated with a unique intro and outro. Easily browse the Pro3rd: Sci-Tech library and drag the desired preset into the timeline above any media in the Final Cut Pro X timeline. Create the perfect cyber-punk look with Pro3rd Sci-Tech by Pixel Film Studios.
Pro3rd Sci-Tech's on-screen controls enables efficient editing. On-screen controls can determine scale, position, and rotation parameters of title elements with the drag of a mouse. In addition, slider controls can be found in the inspector window on the right-hand side of the viewer. Each preset also includes 3D controls to give more immersive control.
Pro3rd Sci-Tech delivers a "neo-noir" essence for any and all lower third animation productions. Choose from a variety of styles that include neon glowing shapes, shapes with displacement, and presets that include drop-zones. In addition, combine each preset with any production media to complete an energetic look that's perfect for any Final Cut Pro X project.
Pro3rd Sci-Tech is created for and completely customizable in Final Cut Pro X. At the top right of the Final Cut Pro X screen is a list of parameters that are customizable in the inspector window. Adjust color, text, and more with just a few clicks and drag of the mouse. Finally, utilize the Edit Mode to isolate and edit text to conform to any preference.
Established in 2006, Aliso Viejo, California-based Pixel Film Studios is an innovative developer of visual effects tools for the post-production and broadcast community. Their products are integrated with popular non-linear editing and compositing products from Apple FCPX. Apple, the Apple logo, Mac OS X, and Macintosh are registered trademarks of Apple Inc. in the U.S. and/or other countries. All other trademarks and trade names are the property of their respective owners.