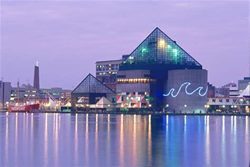 With the Azure AD Single Sign-on the reduction in time and aggravation is immeasurable.
BONITA SPRINGS, Fla. (PRWEB) January 05, 2018
Enabling Technologies, focused on Enabling Secure Productivity in the Cloud, helps the National Aquarium save "real money" and aggravation with their secure communications and collaboration infrastructure.
The challenge for the Aquarium was how to quickly communicate across multiple facilities as well as scale with Azure Active Directory without spending on infrastructure. The initial Azure Active Directory single sign-on was greeted with enthusiasm by Les Kidwell, Director of Technology. "With our seasonal staffing needs, our deployment of Single Sign-on was a big win. It enabled us to reduce password resets and lockouts that plagued HR and IT teams. The reduction in time spent and aggravation is immeasurable."
Sam Tawiah, CTO relies on Enabling for new cloud security initiatives as well. "The Single Sign-on (SSO) project is not something I would've entertained doing on our own," he said. "You want to work with a provider that has been there before. Using Enabling made that seamless, and we knew they would meet their commitment when done."
Since its opening in 1981, the National Aquarium has consistently ranked as one of the nation's top three aquariums. Such lofty recognition requires the organization to put a premium on protecting the data of its customers and employees. "One of the main goals I've set for this year, and an area that's wildly important, is security, and improvement of our Office 365 Secure Score," said Tawiah, "We're also looking to reduce the risk of phishing through Enabling's PhishHunter solution."
"Selling security to management has been easy," stated Tawiah, "because they hear news of all these breaches. The leadership team has embraced new behaviors like Multifactor Authentication (MFA)." The Aquarium uses MFA for IT already and will enforce conditional MFA to prompt users with a second factor only when off-campus.
As one of Maryland's largest paid tourist attractions, success breeds success. Tawiah said, "I hear this all the time, like when we first rolled out SSO for the first application, users said, 'Wow, I like that!' and started demanding more. That's when you know you've made an impact!"
About Enabling Technologies:
Enabling Technologies is the leading Systems integrator of Microsoft Office 365 solutions. Enabling has 25 years of messaging and real-time communications experience and over 1500 deployments of Microsoft Skype for Business/Lync, Exchange and Exchange Unified Messaging and Office 365. Enabling's tried-and-true processes have helped customers minimize risk, maximize existing investments, and optimize the end-user UC experience. Enabling takes an all-inclusive approach to projects, mastering the technical components while also optimizing the people and process side to technology rollouts. We specialize in secure Cloud solutions including Office 365 and Azure AD, Multifactor Authentication, Intune, Azure Information Protection, Cloud App Security, and Azure Security Center. Having Enabling design, implement, and proactively monitor your Office 365 and Skype for Business systems is the first step to changing the way your workforce thinks about communications, for the better. Enabling Technologies' staff is comprised of seasoned, certified IT professionals who work with a range of next-generation technologies and can recommend and implement the "right solution" for our customers. As validation, Enabling Technologies, a four-time recipient of the Microsoft Partner of the Year award, has provided professional services and solutions to organizations of various sizes from such diverse industries as government, legal, financial, pharmaceutical, manufacturing and medical.
For additional information: Elle Vollerthum - 443.625.5112 evollerthum(at)enablingtechcorp(dot)com