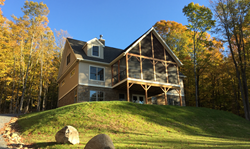 CHARLOTTESVILLE, Va. (PRWEB) January 08, 2018
The Modular Home Builders Association (MHBA) has selected the South Shore, a stunning custom by Saratoga Modular Homes and Icon Legacy, as its first Home of the Month for 2018. Located in the Adirondack Mountains, breathtaking views of the Great Sacandaga Lake can be seen from every room in the home. With 4 bedrooms, 3 baths, a full walkout basement level, and a two-car garage, this 2,400 s.f. home is the perfect cozy family abode in upstate New York.
The open floor plan invites a free-flow of movement between the living room, dining area, and kitchen, which features quartersawn oak cabinetry and quartz countertops. Craftsman style millwork, plus extensive tile and stonework in the bathroom and living room fireplace accent the interior design by combining simplicity with sophistication. Design is matched by utility with features such as the insulated vinyl siding, ultra-high efficiency carrier HVAC system, and "smart home" control and security system. And, of course, a key feature not to be missed is the timber-frame screen porch that is both perfect for entertaining guests and for personal enjoyment of the outdoors view in all types of weather. What's even more amazing than the view is that this home was delivered and set in the dead of winter!
The MHBA is a national non-profit trade association serving builders and manufacturers of modular homes. Each month the association selects a home from its members to highlight the advantages of modular construction. For more information on MHBA, modular homes, and the monthly contest, please visit http://www.modularhome.org.