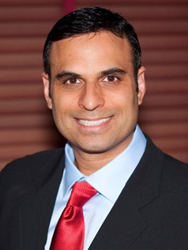 Laser therapy can eliminate bacteria, and regenerate the gum and the bone that support the dental implant.
(PRWEB) January 08, 2018
Respected periodontist, Dr. Amarik Singh, now accepts new patients with swollen or bleeding gums in Elmhurst, IL, with or without a referral to receive a peri-implantitis consultation at his state-of-the-art practice in Oak Brook. When infection attacks the area around a dental implant, the chance of the implant failing is increased as bone and gum tissue is destroyed. Dr. Singh offers the minimally invasive REPaiR Implant™ protocol, to treat infection around dental implants.
"If bacteria infects the gum and the bone that supports a dental implant, a disease will form known as peri-implantitis. Peri-implantitis, however, can be treated with laser therapy," said Dr. Singh. "Today with advancements in dental technology and the use of minimally invasive laser techniques, we are able to vaporize the bacteria that affects the gum and the bone that holds the implant in the mouth. And as a result, eliminate the bacteria and more importantly, regenerate the gum and the bone that support the dental implant."
Symptoms of peri-implantitis are similar to that of periodontal (gum) disease, including gum recession, bad breath, or bleeding gums, around the site of a dental implant. The laser REPaiR treatment provides gentle and effective treatment for peri-implantitis. The laser light eliminates bacteria without harming healthy tissues. Another major benefit of REPaiR is that it assists in the regeneration of gum and bone tissue that surrounds the dental implant. Healthy attachment of gum and bone tissue, as well as proper at-home care, ensures dental implants last for many years.
Dr. Singh is a leading periodontist in the Chicago area. He remains on the cutting-edge for technologies to provide an improved patient experience and more effective treatment techniques. Due to his extensive experience in complex cases and technology, Dr. Singh is a trusted authority in periodontology in the Chicago area as well as across the country.
Those with symptoms of peri-implantitis, such as swollen and bleeding gums in Elmhurst, IL and surrounding areas, are encouraged to call Dr. Singh for a consultation to receive the REPaiR Implant protocol. His Oak Brook practice, Periodontal Implant Associates, can be reached at 630-424-9404 or by visiting http://www.pidentists.com.
About the Doctor
Periodontal Implant Associates is a periodontal practice offering personalized dental care for patients in Oak Brook, IL and the Chicago area. After graduating from Northwestern University Dental School, Dr. Amarik Singh went on to obtain his Specialty Certificate in Periodontics and earn his Master's from Northwestern University. Dr. Singh is deeply committed to continuing education and prides himself on remaining on the cutting-edge of the newest techniques and technology in dentistry. Dr. Singh has placed over 15,000 dental implants using minimally invasive techniques and is part of an elite group of dental professionals at the forefront of the Chao Pinhole® Surgical Technique (PST™), a revolutionary new approach to repairing gum recession. To learn more about the periodontal services available at Periodontal Implant Associates, please visit http://www.pidentists.com or call 630-424-9404.