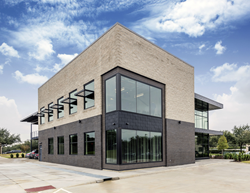 The flow and layout of the entire office was designed and carefully thought out by Adaptive's owners and directors to provide an efficient and comfortable work space for everyone to be as productive as humanly possible. - David Fontenot, President, Adaptive Medical Partners
IRVING, Texas (PRWEB) January 04, 2018
Adaptive Medical Partners, a premier physician recruitment service, announces the opening of a 10,000-square-foot office in Irving today. The new workplace's open urban loft design focuses on both aesthetics and function, giving team members the environment and tools to perform efficiently for the hospitals and doctors they serve.
Of the company's new office, David Fontenot, President, said, "The flow and layout of the entire office was designed and carefully thought out by Adaptive's owners and directors to provide an efficient and comfortable work space for everyone to be as productive as humanly possible."
For designing the office, Adaptive Medical Partners called on Guide Architecture, led by Paul Lowers. Hill & Wilkinson served as the general contractor.
The office is built around a "work from anywhere" attitude. A powerful IT/phone infrastructure enables Adaptive's recruiters and business development team to work throughout the office, from the porch to the lounge. Sophisticated software allow team members to even control their phones from their laptops.
The new office boasts numerous other notable features, including:
Custom-designed furniture: 44 Build, a local Dallas firm, used reclaimed wood and steel for the conference table, bar island, kitchen millwork and other furniture.
A hand-built ping pong table: The steel and concrete table makes for a popular break spot.
Personally crafted steel and wood cubes: Atico Furniture, another local Dallas firm, built the pit cubicles. In the area, employees use a 70-inch flat panel "scoreboard" to show daily activity reports and spur on competition.
Additionally, employees can find leather sofas and a flat panel TV in the lounge. They can head to the kitchen for iced tea and locally roasted coffee. Glass whiteboards dot the office to enhance communication and develop ideas. The office has been wired for sound as well, making it possible to pump music into every square foot, including the 700-square-foot porch.
Clearly, Adaptive Medical partners has gone the extra mile to create the best possible work atmosphere. It will be exciting to see how this pays off for them -- and the healthcare industry they serve -- in the coming months and years.
About Adaptive Medical Partners: Adaptive Medical Partners is a premier physician recruitment service with an executive team that has over 40 years of industry experience. The team has conducted extensive research to develop a new industry baseline in physician recruiting. AMP Score™ is a revolutionary tool they've created to improve the hiring process in the healthcare industry.