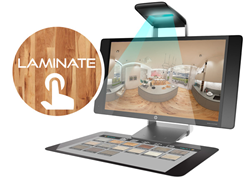 Flooring retailers so far love the backsplash creator and custom room tools.
ATLANTA (PRWEB) January 04, 2018
- Built entirely on HP's Sprout Pro 2 G2.

Powerful yet simple interface allows any flooring retailer to create jaw-dropping 3D kitchen, bath and other room simulations.
Custom backsplashes, custom wall paper, custom cabinets and countertops can be changed to any color, pattern or texture.
Built in scanner lets retail stores scan in sample flooring samples and use in 3D room simulations.
Floors 3D ships with a custom flooring catalog personalized with the flooring brands they already sell.
Floors 3D transforms from a 3D visualization kiosk to a powerful PC in less than 4 seconds.
Ships with (2) VR headsets.
Ships with the Datacolor Spyder color calibrator for accurate color display of 3D flooring product simulations.
Includes a "Live Room Measurement app," from SmartPicture 3D for the iPhone.
"Floors 3D was a real teamwork effort," says Bart Wilson, CIO of VPiX and UX designer. "We worked with over 20 flooring retailers who helped us design the 3D software tools they wanted from the ground up. HP's software engineers deserve a big thank-you. Their team spent months retooling prototypes. We demonstrated a working proof of concept at the Bravo Services annual board of directors meeting in Jackson Hole in June 2017. We received valuable feedback from 14 distributors and built in many more features like a backsplash creator and a color calibration system to ensure accurate flooring colors are shown in the 3D simulations. Today, we're proud to show off the Floors 3D visualizer at the SE Flooring tradeshow."
"Every flooring retailer at the show that's seen the Floors 3D demo has been amazed," adds James Corstorphine of Atlanta-based Virtual Experience 360, the Atlanta VPiX affiliate.
"Two crowd-pleasing features we've heard so far; everyone likes the kitchen backsplash building tools and the custom room tools."
Floors 3D is available with an affordable 36-month lease through HPE Financial Services. It includes a 3-year warranty on all parts and includes VIP same-day customer support through local VPiX affiliate offices throughout north America. Sales are limited to retail flooring stores, flooring contractors, designer showrooms, custom home builders and distributors throughout the USA, Mexico and Canada.
VPiX is currently taking applications for Floors 3D sales reps and distributors at their Floors3D.com website. Protected sales territories are available.
About VPiX
Virtual Pictures Corp. (VPiX®) provides innovative and useful 3D AR-VR solutions to businesses, SMBs, hotels, retail stores and enterprise customers. With five global offices and affiliates around the world, VPiX lets millions of users "Step inside and look around," allowing them to experience Virtual Reality in creative and useful ways that speeds faster sales for our valued customers. More information about Floors 3D is available at http://www.floors3d.com.
About HP
HP Inc. creates technology that makes life better for everyone, everywhere. Through our portfolio of printers, PCs, mobile devices, solutions, and services, we engineer experiences that amaze. More information about HP Inc. is available at http://www.hp.com.