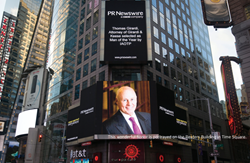 LOS ANGELES (PRWEB) January 04, 2018
Tom Girardi of Girardi & Keese is being recognized as "Lawyer of the Decade" by the IAOTP for his 50 years of service as a practicing attorney, and for his endless list of professional accomplishments, academic achievements, leadership abilities, his dynamic and charismatic personality and his contribution to society.
Stephanie Cirami, President of IAOTP states, "Choosing Mr. Girardi for this award was an easy decision for our panel to make. He is hands down one of the best trial lawyers of all time and he continues to wow us and the public every step of the way with his career achievements. There is no one in the world like Tom. His continued support and generosity has a significant impact on people's lives and he leaves his mark on whomever or whatever he is involved with. He is an extraordinary human being and a one-of-a-kind successful, brilliant, gracious, charming man who couldn't be more deserving of this award. We cannot thank him enough for what he has done for the organization and we are so honored to have him with us. We cannot wait to spend time with him during his NY stay for the Award Gala."
While inclusion with the International Association of Top Professionals is an honor in itself, only one person is chosen for this special distinction. Mr. Girardi will be presented with the Crystal Tower at the 2017 IAOTP's Annual Award Gala being held at the Ritz Carlton in Battery Park, New York City.
Girardi has proved himself as an accomplished professional and expert litigator and has become a household name over the years. From being the trial lawyer on the famous Erin Brockovich case to his solid victories against Vioxx, Merck and the Los Angeles Dodgers, Mr. Girardi is regarded by his peers as one of the nation's top trial lawyers of all time. He has obtained more than 30 verdicts of $1 million or more and has handled more than 100 settlements of $1 million or more. He has tried more than 100 jury cases, winning the first California medical malpractice verdict of $1 million or more, back in the 1970s and he has had a few billion-dollar settlements under his belt.
In 2003, he received the most prestigious honor of being inducted into the Trial Lawyer Hall of Fame by the California State Bar. Mr. Girardi is also the first trial lawyer to be appointed to the California Judicial Council, the policymaking body of the state courts. From 2006 to the present Mr. Girardi is a radio show host called, "Champions of Justice" on KRLA 870AM in Southern California, which is a radio show that discusses relevant legal issues facing Americans today. He has been featured in Lawdragon Magazine, Los Angeles Daily Journal, The National Law Journal, ICE Magazine, Texas Bar Journal, California Law Business, and New Times Los Angeles, just to name a few.
Mr. Girardi is a Member of the Board of Directors and former President of the prestigious International Academy of Trial Lawyers, an invitation-only worldwide organization, limited to 500 trial lawyers. He is President of the Litigation Counsel of America, member of the Inner Circle of Advocates, American Board of Professional Liability Lawyers, Consumer Attorneys of California, and the International Society of Barristers. He has an AV preeminent rating with Martindale Hubble and has been selected as "Top Attorney of the Year," "Top Attorney of the Month," "SuperLawyers", "Best Lawyers in America," "Top 100 Lawyers in California," "Trial Lawyer of the Year" with many organizations for multiple years in a row. For 2017 he was named Man of the Year and was also presented the "Citizen of the Year Award" by the International Association of Top Professionals where he was featured on the Thomas Reuters Building in Times Square numerous times throughout the year.
For more information on Thomas Girardi, please visit: http://www.thomasvgirardi.com
To watch the video regarding his award selection, please visit: https://www.youtube.com/watch?v=-MA-kbMkPSw
For More information of IAOTP, please visit: http://www.iaotp.com