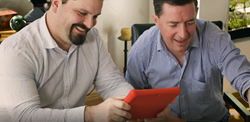 SYDNEY (PRWEB) January 04, 2018
Squaggle kid's tablet is the ultimate smart solution to ensure that children's screen time is safe and worthwhile. The tablet, that's been over two years in development, boasts over 324 games, books and puzzles. Its award winning 'edutainment' apps take the worry out of screen time, whilst making learning child's play for children aged 3-12.
Squaggle is seeking funding via a dedicated kick-starter campaign, which started on Dec 15th. It is already in the top five 'Just for Kids' Kickstarter campaigns, has over 220 backers, and has received over $20,000USD in pledges, with 41 days to go. Pledged funds will go towards the first production run.
No overnight success, Squaggle's founders Bill and Adrian's rigorous testing has seen 61 manufacturers, 21 sample tablets, and testing of over 650 apps over a two-year period.
Co-founder Bill Rafferty said: "Technology is playing a bigger part in our kids' lives. It's no secret that there's a negative side to this, especially when kids are accessing websites and videos that are meant for adults.
"That's why we set out to create Squaggle; a tablet designed especially for kids aged 3 to 12. We're proud that the end product ensures our kids spend their screen time usefully and safely, however we need the help of the public to make it a reality with ALL pledges going towards our first production run."
The chosen apps foster independent learning in children by nurturing their curiosity and creativity. Each app promotes play, interaction, touch, thinking, watching, reading, and listening to expand your kids' minds. The evolving platform of quality content also provides a safe browsing environment with its innovative parent mode, which ensures that screen time is a positive force in our kids' lives.
Designed to ensure screen time is safe and educational for your kids.

The best award-winning edutainment apps
Blocks inappropriate websites, videos and in-app purchases
Time controls (no more fighting to get them off the tablet!)
Access to Google Play in PIN-protected parent-mode
Squaggle Tablet is the perfect size for kids, featuring a large 8-inch high-definition screen and a 'kid-tough' case. It comes in kid-friendly colors and is drop- and scratch-resistant.
Following the kick-starter campaign, the first production run of Squaggle tablets will be shipped to customers in Jul 2018.
###
For more information, imagery or interviews with the founders, please contact Lisa Hollinshead at Hollinshead Comms 101 on Lisa@hollinsheadcomms101.com or call 0420579386.
About Squaggle
Squaggle is an Australian company with a mission to make it easy for parents to ensure screen time is safe and educational for their kids. Squaggle is available as an App for Android smartphones and tablets, and as a Tablet primarily designed for kids.
Bill Rafferty, Squaggle co-founder has a wife and two sons, aged 2 and 6. He describes himself as a happy husband, father, and geek with over 15 years' experience in online services and information technology. He grew up on the northern beaches of Sydney and is now returning after spending over ten years working in London. Bill is looking to focus his time and skills on opportunities that would put his family first and leverage his experience and passion for technology and innovation being a positive force in our lives.
No more arguments when it's time to get off the tablet.
Squaggle comes with pre-set time controls so you no longer need to be the timekeeper. You can use the quick shutdown timer, or configure a calendar to manage time controls by day, app, and user. You can even set time blocks to ensure the tablet won't work when the kids are meant to be asleep.
Switch between kids' mode and PIN-protected parent mode.
Dual mode allows your tablet to operate in two modes: kids' mode, and PIN-protected parent mode. In kids' mode, your child has complete access to parent-approved apps, videos, and websites, allowing them the freedom to explore safely without you having to worry.
Specifically designed for kids and toddlers.
The picture viewer allows kids and toddlers to view images stored on their tablet. You can select which images your kid can see and even record audio to play with the image as it's displayed.