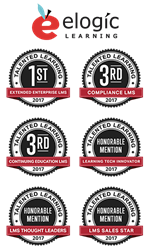 With eLogic Learning winning an award in 6 of our 12 categories, they're clearly setting the pace as a learning technology leader.
(PRWEB) January 16, 2018
Every year in its annual LMS Vendor Awards, Talented Learning- an independent research and consulting firm for learning technology buyers and sellers- highlights LMS vendors in several categories including extended enterprise, continuing education, compliance, and more.
This year, eLogic Learning is proud to announce its eSSential LMS has been named the #1 All-Purpose Extended Enterprise LMS for the third year in a row! Additionally, eSSential LMS was also named the #3 Best Continuing Education LMS, and #3 Best Compliance LMS, along with honorable mentions in the Best Learning Tech Innovator, Best LMS Thought Leader, and LMS Sales Stars (Joe Yates) categories.
"It's an honor not only to be named as a #1 LMS, but an exceptional honor to be named a #1 LMS by Talented Learning for three years now," said Mark Anderson, CEO of eLogic Learning. "eLogic has the utmost respect for Talented Learning and its honest, knowledgeable insight into the market and provider analysis. Earning these awards is humbling but also a testimony of the eLogic Teams commitment to excellence."
The purpose of these awards is to educate and help buyers navigate the (at times) confounding and overwhelming learning technology marketplace. Vendors are chosen based on a number of factors, including:

Executive briefings with Talented Learning analysts
In-depth product demonstrations
Participation and performance in real-life sales opportunities managed by Talented Learning
Feedback from customers who have chosen and deployed these solutions
Feedback from current and former employees of these vendors
John Leh, CEO and Lead Analyst of Talented Learning, had this to say about eLogic Learning: "With eLogic Learning winning an award in 6 of our 12 categories, they're clearly setting the pace as a learning technology leader. Congratulations all around!"
Learn more about the eSSential LMS and its compliance and continuing education features, plus what makes it the #1 all-purpose extended enterprise LMS, by visiting https://elogiclearning.com/essential-lms/feature-tour/.
About eLogic Learning
A leader in the eLearning industry, eLogic Learning offers organizations world class, comprehensive LMS technology and content solutions increase efficiencies and productivity and a strong ROI. The eLogic eSSential LMS supports over five million monthly users and was named the #1 LMS by The Craig Weiss Group, the #1 All-Purpose Extended Enterprise LMS by Talented Learning, and earned the Silver Award for Best Advance in Learning Management Technology for Compliance Training from Brandon Hall. The eSSential LMS makes it easy to manage eLearning, instructor-led and virtual training events, keep up with regulatory compliance requirements, analyze training usage and results, sell courses online with robust ecommerce features, and much more.
In addition to its Learning Management System, eLogic develops custom eLearning content and provides an extensive third-party courseware library. With a comprehensive turnkey approach to implementing learning strategies, eLogic offers professional services and proven expertise in content strategy, business process changes, and the development of corporate training programs.
About Talented Learning
Talented Learning is a news, research and consulting organization dedicated to the advancement of all aspects of extended enterprise learning technology solutions. Talented Learning publishes eLearning news, vendor reviews, case studies, articles, education and best practices that are useful to professionals involved in channel, franchise, customer, member and public sector eLearning.