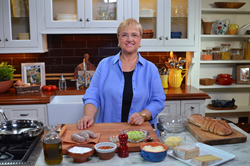 As someone who has personally experienced life as a refugee, I'm honored to become a champion for the right of refugee children to get an education, which provides opportunity and hope. - Lidia Bastianich
WASHINGTON (PRWEB) January 04, 2018
The United Nations Association of the USA (UNA-USA) today announced Emmy award-winning public television host, best‐selling cookbook author, restaurateur, and former refugee Lidia Bastianich as its first celebrity champion for refugee youth education.
As her first act in this role, Bastianich is asking Americans to host fundraising dinners to provide education for children in UN Refugee Agency (UNHCR) camps. All funds raised will support Adopt-A-Future, a campaign of UNA-USA and USA for UNHCR that works to prevent a lost generation by giving refugee children the education they need to build a better future. A donation of just $25 provides school supplies and clothing for a refugee child to enroll in school.
"As someone who has personally experienced life as a refugee, I'm honored to become a champion for the right of refugee children to get an education, which provides opportunity and hope," said Bastianich. "I invite Americans to join me in making a concrete difference in the lives of refugee children by hosting fundraising dinners at their homes, schools, and places of worship."
Bastianich will host her own fundraising dinner for Adopt-A-Future this March at her flagship Manhattan restaurant, Felidia.
"We are delighted to welcome Lidia as our first Adopt-A-Future champion," said Chris Whatley, UNA-USA Executive Director. "As a former refugee, Lidia overcame countless challenges to become the successful chef and businesswoman she is today. We know Lidia's powerful testimony will inspire Americans to take action so more children in refugee camps can learn and pursue a brighter future."
At the close of World War II, Bastianich's hometown of Pola, a small city on the southern tip of the Istrian Peninsula, was overtaken by Yugoslavia and became communist. In 1956, when Bastianich was just 10 years old, she and her family fled to Trieste, Italy, seeking political asylum. For two years, the Bastianich family resided in the Risiera di San Sabba refugee camp until granted access to relocate to New York City. Bastianich, who had a long-held love for food thanks to her grandmother, opened her first restaurant in Queens, New York, in 1971. Since then, among several accolades, Bastianich has become the chef and owner of four acclaimed New York City restaurants, published 11 cookbooks, and launched a production company. Lidia's most recent cookbook, "Lidia's Celebrate Like an Italian," was published in October 2017.
Today, the world is facing the worst refugee crisis since World War II. An unprecedented 65.6 million people worldwide have been forced to flee their homes because of conflict and persecution, according to UNHCR. More than half of the world's refugees are children, and only 61 percent are in primary school – far lower than the global average of 91 percent. The numbers drop even lower in secondary school, with only 23 percent of refugee adolescents in secondary school. The Adopt-A-Future campaign and supporters like Lidia are working to help more refugee children have the opportunity to learn and build a better future.
To join Lidia in supporting refugee youth education, visit unausa.org/adopt-a-future.
About UNA-USA
The United Nations Association of the USA (UNA-USA) is a grassroots movement of Americans who support the vital work of the United Nations in U.S. communities, colleges, and Congress. For more than 70 years, UNA-USA and its national network of 20,000 members and 200 Chapters have promoted strong U.S. leadership at the UN through advocacy campaigns, youth engagement, outreach programs, and public events. Learn more about UNA-USA at unausa.org.
About Lidia Bastianich
Lidia Bastianich is an Emmy award-winning public television host, a bestselling cookbook author, restaurateur and owner of a flourishing food and entertainment business. Lidia has married her two passions in life – her family and food – to create multiple culinary endeavors alongside her two children who are involved in Italian restaurants in New York City, Pittsburgh and Kansas City. Her flagship NYC restaurant, Felidia, is widely acclaimed as one of the finest Italian restaurants in America. Lidia is also founder and president of Tavola Productions, an entertainment company that produces high quality broadcast productions including her Emmy and James Beard Award-winning television series, "Lidia's Kitchen," and her "Lidia Celebrates America" specials. Lidia is a co-owner of Eataly, the international artisanal Italian food and wine marketplace with two locations in New York City, plus Los Angeles, Boston, Chicago and Sao Paulo, Brazil, and she also produces a line of bestselling specialty pastas and all-natural sauces called LIDIA'S, available in fine food stores in most states. Lidia's upcoming memoir, on sale April 2018, is: My American Dream: A Life of Love, Family and Food. For more information on Lidia, visit http://www.lidiasitaly.com.