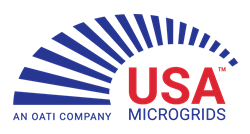 MINNEAPOLIS (PRWEB) January 04, 2018
USA Microgrids, an OATI company, is pleased to announce the Town of Westbrook selected the company to move forward in the development and submission of a Department of Energy and Environmental Protection (DEEP) grant proposal in Connecticut. The project is part of the DEEP's initiative to create a Microgrid Program to help support local distributed energy generation for critical facilities to ensure they remain powered during electrical grid outages. USA Microgrids was selected in a competitive RFP process.
USA Microgrids conducted an analysis of the area, composed a microgrid design, and competed with other companies in the bid for the project. The initial proposal was then evaluated and rated by experience and qualification, technical approach, ability to implement, sustainable design and financial terms. After careful consideration, the Town of Westbrook chose USA Microgrids as their partner in the development and submission of the DEEP grant materials which were submitted in December.
"We look forward to working with the Town of Westbrook as a partner," said David Heim, Chief Strategy Officer of USA Microgrids. "This collaborative effort showcases how solidly a microgrid can be put together to increase reliability and provide environmental and economic benefits for the state of Connecticut. We anxiously await DEEP's positive consideration of our grant proposal. "
To learn more about the DEEP Microgrid Program, click here.
About USA Microgrids
USA Microgrids, an OATI company, addresses the needs of Commercial and Industrial businesses, communities, and municipal emergency services looking for more reliable electricity supply and stable energy prices by self-generating power. USA Microgrids leverages next-generation technology and deep staff experience, plus best-in-class providers of microgrid design services and equipment to offer a full microgrid development and operations platform.
USA Microgrids (http://www.usamicrogrids.com) is operated by leaders within the power industry and understand the requirements of the evolving modern grid. USA Microgrids is headquartered in Minneapolis, Minnesota. For more information, please contact communications(at)USAMicrogrids(dot)net.