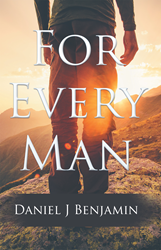 HARTFORD, Conn. (PRWEB) January 08, 2018
Daniel J Benjamin had a dream of becoming a published author and worked on a manuscript for ten years. However, he passed away before he could fulfill that dream. It was his fiancée, Cathy Haberern, who tasked herself with sharing his novel "For Every Man."
This is the story of a young man who lost his faith in society and life. He ventures off to the wilderness in hopes of meeting his end. Instead he finds will, determination, hope, friendship, truth, and through the evolution of self-discovery—rebirth.
"Dan had a beautiful brilliant mind, could see things in a different perspective, and found happiness living a simple life," said Cathy. "He was inspired by nature, loved history, and had a deep respect for those who came before us and paved the way through strength and determination."
Set in the 1800s, the book presents a recurring theme of human nature that reverberates through time for those who are seeking self-realization and the truth within themselves.
"For Every Man"
By Daniel J Benjamin
ISBN: 9781504385503 (softcover); 9781504385527 (hardcover); 9781504385510 (eBook)
Available at the Balboa Press Online Bookstore, Amazon, and Barnes & Noble
About the author
Daniel J Benjamin was a simple man with an old soul, strong heart, creative hands, and a brilliant mind. It was his inquisitive mind that drew him to his passion for history, reading old books, preserving the past, and honoring those that came before him. He was a man who stood where he believed and believed where he stood even if it meant standing alone. Daniel left this earth on January 26, 2015 at the age of 44. These are his words he wanted to share with the world. He is also the author of "Words of a Warrior: On Life, Love and Truth." To learn more, please visit http://www.danieljbenjaminauthor.com.
Review Copies & Interview Requests:
LAVIDGE – Phoenix
Bryan Beach
480-306-6554
bbeach(at)lavidge(dot)com
General Inquiries:
LAVIDGE – Phoenix
Kalin Thomas
480-648-7560
kthomas(at)lavidge(dot)com