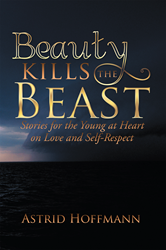 PLANTATION, Fla. (PRWEB) January 08, 2018
A Florida-based writer, landscape architect and youth advocate has released her debut collection of short stories, which opens a dialogue with readers about fostering self-respect, facing fears and overcoming adversity and offers commentary on pertinent hot-button issues like identity, discrimination, addiction and human trafficking.
In "Beauty Kills the Beast: Stories for the Young at Heart on Love and Self Respect," author Astrid Hoffmann presents an anthology of four thought-provoking short stories, each of which fleshes out the emotional, social and physical circumstances of a dynamic protagonist. As Hoffmann delves deeply into her characters' individual environments and personal struggles, her allegorical narratives expose readers to the complexity and perseverance of the human spirit.
"I wrote this book to be of help, inspire, open minds to new possibilities and empower those who need a hand," Hoffmann said. "Through my writing, I hope to honor those who suffer and shed light on their hearts so that they may find the strength to stand up for themselves, courage to forgive and self-love to nourish gratefulness in their lives."
Through "Beauty Kills the Beast," Hoffmann illuminates modern, widely relatable issues faced by vulnerable populations and minorities, ultimately empowering and giving a voice to people of all ages, genders, orientations and races.
"Beauty Kills the Beast: Stories for the Young at Heart on Love and Self Respect"
By Astrid Hoffmann
ISBN: 978-1-5043-8530-5 (hardback); 978-1-5043-8531-2 (paperback); 978-1-5043-8532-9 (electronic)
Available at the Balboa Press Online Bookstore, Barnes & Noble and Amazon
About the author
Astrid Hoffmann was born in Chile, has more than 14 years of experience as a landscape architect and holds a master's degree in landscape architecture. In her spare time, Hoffmann enjoys painting, learning about crystal energy, walking and reading. She currently resides in Plantation, Fla. To learn more, please visit http://www.ahoffmannbooks.com.
Review Copies & Interview Requests:
LAVIDGE – Phoenix
Danielle Grobmeier
480-648-7557
dgrobmeier(at)lavidge.com
General Inquiries:
LAVIDGE – Phoenix
Maggie Driver
480-998-2600 x 584
mdriver(at)lavidge.com