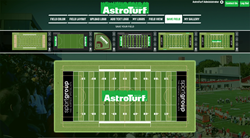 The AstroTurf Field Configurator allows the customer to fine tune their vision on our website and get it down on paper or a sharable file
Dalton, GA (PRWEB) January 05, 2018
AstroTurf remains ahead of the game once again by giving their customers yet another tool to help make their vision of having a synthetic turf field become a reality. With the launch of their new state of the art field configurator tool on their website, AstroTurf has put its customers in control of the field design process.
Clients may now visit astroturf.com and begin the process of building their own field with this simple and easy to use tool. If you can visualize it, you can build it. Start with selecting what type of field you would like to build and from there you can choose from many different options to build your dream field. Choose your custom colors, select your desired field lines, add text in the end zones, upload your school's logo, and add your own personal touches to produce a field that will impress and excite your fan base. The integrated chat feature allows you to have your questions answered in a timely manner by an AstroTurf professional and gives you the customer service that they are famous for.
Your dream design can be saved, shared or printed with just a few easy clicks. There is no longer the need to wait for a designer to present you with a basic rendering of your field. While AstroTurf will certainly still do that for you, this process will enable users to move more quickly from the concept stage to the next steps in getting your desired field completed.
"One of the challenges in our business is to be able to take an idea from a customer's mind, have it communicated to us as they see it, and then present it back to them as a finished drawing" said Troy Squires, President of AstroTurf Corporation. "The AstroTurf field configurator allows the customer to fine tune their vision on our website and get it down on paper or a sharable file."
The AstroTurf Field Configurator is just another example of their sensitivity to the needs of their customers. AstroTurf is excited to be able to offer this utility to put ideas and dreams on paper that can be easily shared and communicated to all decision makers and involved parties. Even though, they have put you in the driver's seat with this feature, don't think that you are all alone on this journey. AstroTurf offers some of the most dedicated, experienced turf professionals in the industry that will be with you from concept to completion. Your personal AstroTurf sales professional can be found here: http://www.astroturf.com/sports-turf-contact/
You now have the tool to help you take that first step in the process of building the premium playing surface that you have been dreaming about. AstroTurf can't wait to see what you come up with! Start your dream design today at https://www.astroturf.com/configurator/
About AstroTurf®
For athletes and sport enthusiasts, AstroTurf® has redefined the way the game is played. The brand offers advanced, state-of-the-art, multi-sport and specialized synthetic turf systems with proprietary engineered technologies. A growing number of high schools, colleges, professional sports teams and municipalities continue to select AstroTurf-branded products for their premium quality, technical superiority, and safety. To learn more, visit AstroTurf's newly redesigned website at http://www.astroturf.com.