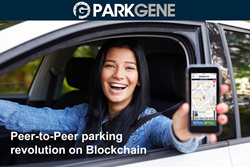 Building a peer-to-peer parking community through blockchain technology and the use of GENE tokens as a flexible means of payment, create an easy, accessible, transparent, cost-effective way for drivers to find parking spaces and for parking space owners to make extra income
SINGAPORE, and LONDON, and ATHENS, Greece (PRWEB) January 05, 2018
Parking in large cities can be a burden on drivers and on city traffic. According to recent studies, drivers spend nine minutes on average driving around in circles looking for parking, creating traffic, while one in three drivers fails in securing a convenient spot.
Existing parking platforms operate as intermediaries charging a premium for their services. At the same time, a peer-to-peer parking economy has not realized its full potential, as these intermediaries act as arbitrators. Furthermore, tax regulations restrict direct payments between individuals.
PARKGENE's decentralized parking technology creates new unused parking spots in crowded cities, by enabling seamless integration of all parking options, thus creating a functional marketplace that lets drivers easily find the cheapest parking.
Building a peer-to-peer parking community through blockchain technology and the use of GENE tokens as a flexible means of payment, create an easy, accessible, transparent, cost-effective way for drivers to find parking spaces and for parking space owners to make extra income.
Establishing GENE tokens for parking transactions, will attract other related services (car insurance, tolls, automotive services, etc.), to use PARKGENE's ledger technology and start accepting GENEs for payments.
Leveraging all the advantages of smart contracts, circumventing intermediaries and paperwork, PARKGENE is ready to revolutionize the parking industry.
PARKGENE is an operational fork of PARKGURU, a successful parking booking platform focused on municipality and commercial parking garages. The PARKGURU platform is already successful and operational with more than 50,000 customers in Europe and the US and accepts Bitcoin, Ethereurm and other cryptocurrencies as a form of payment. The team consists of more than 30 developers.
PARKGENE utilizes PARKGURU core technology to create its own version of peer-to-peer parking platform, but is also employing smart sensors, remote controls and Artificial Intelligence algorithms to make PARKGENE a best-of breed application. The implementation of GENE tokens and cryptocurrency payments is a cornerstone of the platform and will be released within a month after the end of the Token Sale.
PARKGENE is currently in the Pre-ICO closed round which lasts until January the 15th 2018 to which qualified investors can participate by requesting invitation from the official web site.
The PARKGENE Initial Coin Offering (ICO) will run from January the 15th 2018 and February the 19th 2018. The goal is to secure funding to grow the service on a global scale.