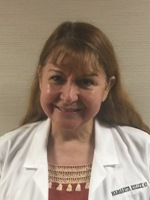 "Whoever comes through the door, I commit to do the very best. I am a doctor who listens, and I want the patient to leave the office feeling better and newly hopeful about their health."
WASHINGTON, D.C. (PRWEB) January 17, 2018
Margarita Kullick, MD comes to NIHA with over 35 years in medicine. Her practice of evaluating every patient comprehensively has led to not only the solving of immediate medical problems, but the building of a foundation for life-long health and wellness.
Dr. Kullick's search for answers to her patients' ailments led her on a path of natural healing, into the world of functional and alternative medicine. Through this exploration and functional medicine training, she discovered many different ways to help patients take charge of their own health, by both prevention and treatment of the root cause of their ailments or imbalances. She is motivated by providing solutions for patients with challenging and unique conditions.
Her passion for providing the most comprehensive treatments for her patients led her to seek knowledge from a diverse array of sources. Dr. Kullick's journey took her from the Universidad Autonoma de Nuevo Leon in Mexico, to Washington D.C., where she completed her Internal Medicine residency postgraduate studies at Georgetown University and her Nephrology Fellowship at the National Institutes of Health. She is a member of the American Academy of Anti-Aging medicine.
At NIHA, Dr. Kullick will focus on functional medicine, anti-aging, brain health, and hormonal health (BHRT). Her special interests include chronic fatigue, autoimmune disorders, depression and anxiety, weight management, diabetes and diabetes prevention, and disease management.
Dr. Kullick's philosophy is summarized in her words, "Whoever comes through the door, I commit to do the very best. I am a doctor who listens, and I want the patient to leave the office feeling better and newly hopeful about their health."
Dr. Kullick is now accepting new patients. She is committed to providing care for the whole person and incorporating innovative medical services and therapies offered at NIHA that may not be readily available elsewhere. She is fluent in English and Spanish, a frequent guest of local and national television, a published short story writer, and a bilingual medical writer for a Hispanic community publication.
About National Integrated Health Associates
National Integrated Health Associates, NIHA, is a leading integrative medicine and dental center serving the Washington D.C., Maryland, and Virginia metropolitan area. Integrative physicians, biological dentists and a team of holistic practitioners blend the best of traditional medicine and integrative medical therapies to help the body heal and achieve optimum wellness. http://www.nihadc.com