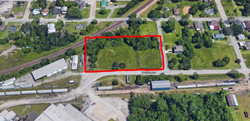 (PRWEB) January 05, 2018
Larry Polhill, Vice President and Director of Matrix Marketing Corporation, donated a property in Orange Texas to the Orange Lions Club. Due to severe damages from Tropical Storm Harvey, The Orange Lions Club had their property destroyed.
"Our meeting facility adjacent to your property was damaged beyond repair due to the flooding incurred by Tropical Storm Harvey," said Chris Gunstream, President of the Orange Lions Club.
Mr. Polhill saw a need and as a good neighbor with a charitable character stepped in and offered to help.
This donation will serve The Orange Lions Club as a place where they will build a new facility to hold board meetings and general session meetings.
As a 501 c 4 organization, The Orange Lions Club held a Carnival every year since 1939 (except during WWII and 2017-Tropical Storm Harvey). Their Carnival has been a major fundraiser for their club as well as other Clubs in Orange County and those funds are used to support the community's needs. Those needs include: welfare, eye glasses, medications, hearing aids, Christmas food baskets along with other necessities.
The donation received from Mr. Larry Polhill and Matrix Marketing Corporation and will assist the Orange Lions Club and their great works.