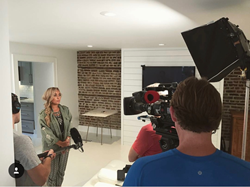 I am so excited to be part of a show as iconic as House Hunters and share my love of Charleston with the HGTV audience
CHARLESTON, S.C. (PRWEB) January 05, 2018
Born and raised in Charleston, REALTOR® Anna Gruenloh has been practicing real estate for well over a decade and is a currently a broker at The Cassina Group. As a certified investor agent specialist (CIAS), she excels in matching her client's investment needs with their personal wants.
In the upcoming episode of House Hunters airing January 9th, Anna combines her experience and intimate knowledge of downtown real estate to find a second home for her clients, David and Ana Maria Seifarth of Urbana, MD. The couple fell in love with Charleston while travelling to the area over the past six years and are in the process of opening a Lowcountry location of their Maryland-based salon, DNA Lab. Tuesday night's episode will highlight the Seifarth's search for a second home that is close to their downtown salon located at 10 Exchange Street. Properties to be showcased include 59 Hanover Street, 34 Montagu Unit B and 40 Poinsett Street.
"I am so excited to be part of a show as iconic as House Hunters and share my love of Charleston with the HGTV audience," said Anna. "The episode will feature several unique downtown properties which provide a glimpse into the variety of real estate options Charleston has to offer."
The episode airs on HGTV on Tuesday, January 9th at 10:30pm. For more information on Anna Gruenloh or The Cassina Group, please visit http://www.TheCassinaGroup.com.
About The Cassina Group
The Cassina Group is a boutique real estate brokerage with offices in Mount Pleasant, SC and Charleston, SC. Recent awards include top honors from Charleston Magazine, Inc. 5000 and SC Biz News. For more information, visit http://www.TheCassinaGroup.com or call 843.628.0008.
###