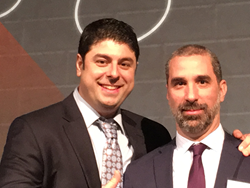 Our priority has always been to build the best possible solar system for customers while saving them money and providing a cleaner, price-protected future.
PEARL RIVER, N.Y. (PRWEB) January 09, 2018
SunPower by Infinity Solar (http://infinitysolarsystems.com) is a nationally recognized solar contractor that services New York and New Jersey homeowners. The Infinity team recently opened its new design center in Pearl River, New York. The company website has also been enriched with new content and a solar savings calculator to better educate homeowners on the financial and environmental benefits of going solar.
Infinity Solar was founded in 2008 by Murphy Panagiotou and Achilles Tzoulafis, lifelong friends who grew up across the street from one another. Before they joined forces in 2008, Murphy was a roofing contractor in Rockland County, New York, and Achilles was an electrician in northern New Jersey. The two combined their talents and experience to build a solar company with a bigger purpose, to help homeowners save money and reduce their carbon footprint. Infinity Solar's unique, homegrown business model has continually allowed it to outperform its competitors. The formula is simple: Provide the highest-quality solar panel product with state-of-the-art workmanship, and back it up with the lowest energy pricing available. This formula gives homeowners superior energy value and a world-class customer experience that exceeds what competitors can offer homeowners in the residential solar market place. According to Tzoulafis, "The team has done an amazing job, and Murphy and I are really proud to see all the work pay off. Our priority has always been to build the best possible solar system for customers while saving them money and providing a cleaner, price-protected future. We couldn't have completed thousands of projects with quality workmanship without the dedication of our team."
Infinity is about to celebrate its 10-year anniversary with perfect timing. The company is currently experiencing explosive growth because of consumer education. New York and New Jersey homeowners are simply getting smarter about solar energy options, incentives, rebates and the environment. Unlike its competitors, Infinity has a world-class product with real value and substantial savings for homeowners. SunPower solar panels produce 70 percent more energy than conventional panels do, and sitting close to the rooftop, the all-black panels make a statement about good taste while reducing utility costs. SunPower's products are also known for its industry-leading warranty, which covers the entire system and includes performance, parts and labor for 25 years.
Infinity operates like a car dealership in that it maintains an ongoing relationship with customers even after the solar systems have been installed. Customers continue to communicate with the Infinity team if they have questions or issues and many customers recommend their friends and family to the idea of "going solar". SunPower by Infinity Solar is a master dealer in the Sunpower installer network and has completed thousands of projects with outstanding reviews in New Jersey and New York in the past decade.
About Infinity Solar
SunPower by Infinity Solar (http://sunpowerbyinfinitysolar.com) was founded in 2008. The company is nationally recognized as one of Solar Power World's top solar contractors, and its executives have been featured in SmartCEO magazine for its proven, team-centric approach.
The Infinity Solar team has extensive experience and knowledge in designing solar panel systems for residential and commercial properties. The team makes the engineering, permitting, and installation simple and easy for customers.
SunPower develops the industry's most efficient and cosmetically friendly solar panel solutions and provides its customers with the greatest financial savings and a positive environmental impact.
Media contact:
Jim Alamia, Chief Marketing Officer
jim.alamia(at)infinitysolarsystems.com
(201) 290-1003