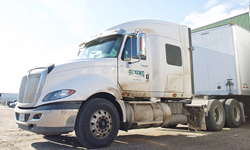 This partnership is not simply about putting up a banner in the arena. We can help the team if they have any moving requirements.
KELOWNA, British Columbia (PRWEB) January 05, 2018
Bekins Moving & Storage Kelowna has scored a winning goal by teaming up with the Kelowna Rockets to become the WHL hockey team's official movers.
The announcement comes on the heels of the Kelowna movers' hiring of new vice president of sales and marketing Joe Gagnon, who has years of experience in the moving industry and is no stranger to working with sports organizations.
"I love working on marketing with sports teams, as it is a good way to support community," says Gagnon.
With the support of Bekins Kelowna general manager Nathan Miller, Gagnon will be working with the Rockets on both on- and off-the-ice promotion, branding, and with any moving services the team may require.
"People here are crazy about their hockey team," says Gagnon, who has caught the Rockets in action a few times since moving to the Okanagan from Montreal. "Teaming up with the Rockets gives us credibility as well as publicity and recognition. The Rockets are a class act who are not going to associate with a company that is anything but credible."
The former owner of Westmount Moving & Warehousing, a successful moving company based in LaSalle, Que., with offices in Kitchener-Waterloo and Ottawa, Ont., Gagnon helped his company become the official movers of the NHL's Montreal Canadiens. The company also partnered with the OHL's Kitchener-Waterloo Rangers team, the CFL's Alouettes football team, and for a while, with the Ottawa Senators.
"Larry Smith, who was president with the Alouettes, was a shareholder at Westmount," says Gagnon. "When we were with Westmount, we were the official movers with the Canadiens for 12 years. We made great corporate connections and met great people."
Westmount was also responsible for providing moving services to a number of players, including defenseman Shae Weber when he came to Montreal after P.K. Subban was traded to the Nashville Predators.
"With the Canadiens, we did more than $250,000 worth of moving services when players were traded or with moving other players around," says Gagnon.
While the price tag with the Kelowna Rockets will not be as high, Bekins' movers in Kelowna will be available to assist the team with any of its moving needs.
"This partnership is not simply about putting up a banner in the arena. We can help the team if they have any moving requirements or if any renovations take place at Prospera Place, where moving and storage services may be required. Things can come up where they may need a truck and men," says Gagnon.
As the Rockets are now halfway through their season—as of press time, the 2004 Memorial Cup Champions were standing third in the Western Conference—most of Bekins' on-ice promotion, such as sponsoring screen shots, will likely take place next season.
"We're just getting started to plan and amp up our marketing inventory for next season. This also ties in well with radio and our website development. People will say, 'we heard them on the radio,' and then they will see our logo on the screen. It keeps us top-of-mind. There's no reason why someone shouldn't know about Bekins," says Gagnon.
And while advertising certainly has its benefits, for the partnership to be mutually beneficial, it has to be for the long run, he adds.
"If we're in and out, there's no real value. My intention at Bekins is for this to become a long-term relationship with the Rockets. That's our best chance of success."
--
For more information, please contact:
Joe Gagnon
Vice President, Marketing and Sales
Bekins Moving & Storage Kelowna
info[at]bekinskelowna[dot]com
250-766-1966
http://www.bekinskelownamovers.com
About Bekins Moving & Storage Kelowna:
One of the most trusted moving companies in Kelowna and part of the oldest moving franchise in Western Canada, with six branches all over BC, Bekins Moving & Storage Kelowna offers all-inclusive moving services in and around the Okanagan and beyond. Bekins' Kelowna movers are available for businesses needing to relocate or renovate, while long distance moving services are available through Bekins' affiliate United Van Lines, which has more than 200 locations across North America.