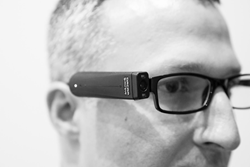 I'm motivated to keep going when I help an individual impacted by Macular Degeneration, Glaucoma, or other eye diseases, and change their life for the better simply by introducing them to a new technology
(PRWEB) January 05, 2018
Lesa Berg, CEO and Founder of Florida Vision Technology, has been helping people with low vision or blindness lead more productive lives for well over 24 years. In a recent interview, Berg was asked what drives her to continue serving the low vision and blind community after so many years. Berg replied, "I'm motivated to keep going when I help an individual impacted by Macular Degeneration, Glaucoma, or other eye diseases, and change their life for the better simply by introducing them to a new technology".
Berg has appeared in radio and TV interviews, conducts workshops and seminars all over the state, and works directly with the blind and visually impaired. The Florida Division of Blind Services honored her with the "Successful 75" Award for her work in the community and fostering independence to so many in Florida. Berg also employs several individuals with low vision, making her company uniquely qualified to understand the challenges people with low vision or blindness face every day, and what technology is available to help solve those issues.
Berg was asked what the biggest challenges are for individuals struggling with vision loss. "Navigating a new environment is a BIG challenge," stated Berg. She explained that even in familiar environments, objects can be moved, new objects might have been brought in, all of which create unexpected obstacles, not to mention a safety issue for a person with impaired vision. "Trying to self-navigate in an unfamiliar surrounding can be nerve wracking," Berg added. "For example, walking down a street could pose a safety threat to someone who just wants to meet a friend for lunch. Because of this, many people with low vision will wait to leave the house until they can get a sighted friend or family member to help them. Not everyone has a person they can call. And that person isn't always available. This often results in immobility, isolation, and dependence."
Berg was asked about the possible technology solutions for this challenge. Berg responded, "Individuals with visual impairments often lose their confidence as their environment gets more difficult to navigate." However, Berg is confident that technology can help. She talked about several new products including video magnifiers that read text aloud, special IrisVision glasses that provide extra magnification where the user needs it while maintaining a wide field of view, Braille tablets, and the new Orcam MyEye device which reads whatever text the user points to.
"OrCam MyEye is a small, portable product with a camera that clips onto the user's glasses, and a small computer base that slips into a pocket. Whatever text the user points to is read back to them through a discreet earpiece," Berg explains.
After asking Berg a few more questions, she explains how this would work to ease the challenge of navigating in a new environment. "OrCam MyEye will read street signs if the user points to them. It can also read red or green signals at pedestrian crossings to help them when crossing". Berg also talked about the facial recognition feature. OrCam will store faces, so that when that person enters the camera's field of view, they are announced. This is in addition to reading all text – product identification, telling time, reading menus, books, signs, labels, smartphone screens, computer screens, and even identifying currency notes. "So, there's no reason why that lunch date with a friend can't happen," asserts Berg.
As an advocate for the blind and visually impaired, Berg says she'll continue to introduce new technological solutions to those that can benefit from the products. Berg operates a retail store inside the Lighthouse of Broward where end users can test out many products first-hand, including the OrCam MyEye, to see which technology works best for them. From big button phones and keyboards to reading machines, magnifiers, talking watches and clocks, Florida Vision Technology offers over 500 products that help those who suffer from Macular Degeneration, Diabetic Retinopathy and other retina diseases live more comfortable, convenient and independent lives. Larger equipment purchases may be eligible for delivery, set up, and training from Berg or one of her expert staff members.
To connect with Lesa Berg and Florida Vision Technology, call 1-800-981-5119 or stop by the store at 650 N. Andrews Avenue, Ft. Lauderdale, FL 33311. Like what they are doing? Visit their Facebook page at facebook.com/FloridaReading. To learn more about the company and its efforts, watch this video.
About Florida Vision Technology
Florida Vision Technology is a minority certified small business based out of Fort Lauderdale. Lesa Berg, founder and CEO, has worked in the blindness and low vision industry for more than 24 years. She is committed to placing the best adaptive technology and products available today within reach of blind and visually challenged people of all ages and walks of life.