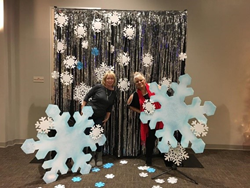 HOUSTON (PRWEB) January 05, 2018
Calvary Houston, a Friendswood church that helped several local individuals following historical Hurricane Harvey back in October, had an extremely successful 2017 Christmas season. The church hosted multiple events designed for people of all ages as it celebrated the birth of Jesus Christ with three services on Christmas Eve Day.
According to pastor Ron Hindt of the Calvary Houston church, the events were a perfect way to bring the community together to share in the gift of Jesus Christ this holiday season.
The Christmas holiday events began on Dec. 9 with a Calvary Houston Women's Day Luncheon starting at 10 a.m. Next on the church's jam-packed holiday schedule was Family Christmas Night on Dec. 20 at 6:30 p.m. During the two-hour family night, the church offered a petting zoo, pony rides, a photo both, and train rides for kids and kids at heart. The church also offered live entertainment, crafts, and snacks for visitors. The family-bonding night was the perfect opportunity for families to take time out of their busy schedules to celebrate Jesus's birthday in a fun, unforgettable way this year.
Then, the church held contemporary Christmas Eve church services at 9 a.m. and 11 a.m. on Dec. 24, during which Pastor Ron Hindt shared a special Christmas message. This was followed by a 5 p.m. Christmas Eve Candlelight Service the same day. The purpose of the candlelight Christmas Eve service, which is hosted in churches across the globe, is to recognize Jesus's birth, which is generally thought to have taken place at night. At a time when much focus is placed on gift giving and Santa Claus, the candlelight service helps to keep Christians focused on the true meaning of the holiday.
The Calvary Houston church continues to be a beacon of light in the local community, changing lives for the better through its many services, including its Sunday morning services, Sunday prayer service, Sunday Spanish service, Sunday youth service, and Wednesday service.
The church is also active in community outreach efforts. In fact, it served over 100,000 meals following Hurricane Harvey's flooding. In addition, at that time, it offered food and supplies to over 1,000 families via its Food Pantry.
In addition to standing out as a true community advocate, Pastor Ron Hindt is known for his expositional biblical teaching style, which is both informative and practical. To learn more about Calvary Houston and its many worship, fellowship, and ministry opportunities, contact the following: