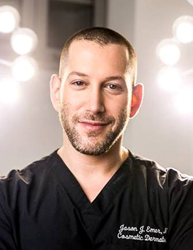 "It was a tremendous honor to impact the lives of both Alison and Karen," Dr. Emer says.
BEVERLY HILLS, Calif. (PRWEB) January 05, 2018
Cosmetic dermatologic surgeon Dr. Jason Emer, highly acclaimed for his results-driven, no-boundaries approach to cosmetic dermatological procedures of the body and face, was featured recently during two inspiring appearances on the widely watched medical television show The Doctors. In the first appearance, the innovative Dr. Emer expertly brightened a dull complexion by applying a bold approach to facials termed the "salt and sizzle facial." In the second episode, he surprised a member of the audience with a customized filler treatment that improved her sagging features as part of an expansive and complementary full facial transformation that also included a fearless new hairstyle and glammed makeup application.
"We're always aging," says Dr. Jason Emer, "either due to genetic predispositions or constant exposure to the sun, and it can leave us with a complexion that looks lifeless. I'm always looking for ways to combat this, particularly with methods that are unique and can maximize results in one procedure. With Alison, who wanted to regain her bright complexion, we decided to restore a more youthful glow with a sea salt facial, a non-abrasive use of pressurized salt that naturally exfoliated and hydrated her skin with fantastic results."
During the procedure, Dr. Emer applied a one-of-a-kind "salt and sizzle facial" to Alison using the SaltFacial Skin Renewal Therapy™. It offers skin-rejuvenating results without the skin trauma or damage that is seen with a microdermabrasion procedure; it's ideal for all skin types to lift and tighten the skin, remove oil and debris, erase fine lines, and reduce dark circles under the eyes. By adding the sizzle mask, composed of lightening agents and antioxidants, it further brightens the skin and improves overall texture and glow.
On the other episode, Dr. Emer helped give a complete makeover to audience member Karen, who was chosen as part of the show's 10th season "Race to Erase 10 Years" celebration in which they surprise guests on each show with a makeover to take a decade off their appearance.
"Karen's skin laxity, sagging features, and overall lack of facial volume were taking away from the central, most attractive feature of her face – her eyes," Dr. Emer says. "We decided to add facial fillers to fill in her cheeks, volumize her lips, and lift her chin for a more youthful looking appearance. Once her makeover was complete, she looked like a completely different person; it was fantastic to see her reaction!"
To perform such a facial transformation on patients at his spectacular Beverly Hills office, Dr. Emer uses facial fillers such as Juvéderm®, Voluma®, Volbella®, Restylane®, and Radiesse®, among others. For customized body transformations, Dr. Emer expertly applies body contouring solutions such as laser therapy, radiofrequency treatments, and ultrasound procedures as well as reconstructive and Hi-Def Lipo, in which he takes liposuction to unprecedented body sculpting levels. To learn more about these and other procedures, including non-surgical rhinoplasty, visit https://JasonEmerMD.com.
"It was a tremendous honor to impact the lives of both Alison and Karen," Dr. Emer says. "For patients like Alison who are looking to exfoliate and hydrate their skin naturally and gently, the sea salt facial is an excellent solution that we can combine with vitamin-infused topicals to restore a bright, vibrant appearance. For anyone like Karen who is looking to improve their overall facial volume, we offer a wide range of facial fillers that can be customized to fit all types of skin laxity and sagging for results that are extraordinary."
Dr. Emer on Social Media:
Facebook @JasonEmerMD
Snapchat @JasonEmerMD
Instagram @JasonEmerMD
Twitter @JasonEmerMD,
Also, visit his website https://JasonEmerMD.com/ for more information on the most advanced treatments in cosmetic dermatology and body sculpting.
For Reviews: Realself.com & Yelp.com
Contact: Media(at)JasonEmerMD(dot)com
More Information on Dr. Jason Emer:
Dr. Jason Emer's main practice and passion are liposculpture and body sculpting/etching procedures. For obtaining the best results, with the least amount of downtime, and for patient safety reasons, all procedures are performed using a local fluid called "tumescent anesthesia," which allows for a comfortable surgery with little risks. Dr. Emer uses all of the advanced technologies for body contouring/etching to tailor his results to each person's concerns, no single device or type of liposuction is used.
Dr. Emer is a leading expert in cosmetic and laser dermatology utilizing the latest advancements in non-invasive treatments for aging. He utilizes combination treatments to get the ultimate results and customizes treatments to the patient's skin type and long-term goals. His interests include acne and traumatic scars, abnormal pigmentation, burns, and anti-aging/rejuvenation combination treatments. He personally treats all his patients to ensure the best results and doesn't delegate to other staff in most instances.
Visit https://JasonEmerMD.com/ for more.
Jason Emer, MD
435 N Bedford Dr. Suite 312
Beverly Hills, CA 90210
(424) 320-0813
Media(at)JasonEmerMD(dot)com