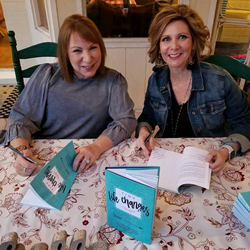 No matter how big the task, goal, or dream, all you must do is make a COMMITMENT to change. Lauren Daniels
SCOTTSDALE, Ariz. (PRWEB) January 05, 2018
Take a journey to fundamentally change your life.
King, a pharmacist, and Daniels, a life coach, became inspired to combine their 45 years of health and well-being to collaborate on TINY LIFE CHANES. They learned firsthand how small, positive changes ignite a spark within so that we can live a life bigger than we could have ever dreamed of. If it helped them, then how many others could benefit from these tiny life changes as well? They knew that if they could show them how to acquire the right attitude and mindset, they would have the tools needed to conquer their goals and achieve their dreams.
TINY LIFE CHANGES is about transformation through changing your life from the inside-out one step at a time. "MOVING FORWARD is moving forward. Each step in the right direction will get you closer to your goal," says King.
Fortunately, this life-changing journey costs nothing when pointed in the right direction. Part of that roadmap is learning how to replace old feelings and behavior with positive ones, such as fear with courage, doubt with trust, and anxiety with peace.
Daniels says, "No matter how big the task, goal, or dream, all you must do is make a COMMITMENT to change. This is the first step in the right direction, and you will be on your way with one TINY CHANGE at a time."
TINY LIFE CHANGES launches globally on January 9, 2017, in perfect-bound softcover, hard cover, and ebook, by Beyond Publishing, a Los Angeles-based hybrid publisher. Michael D. Butler, CEO of Beyond Publishing says, "as a way of expressing their gratitude for all of the positive feedback from friends and fans, Lisa and Lauren want to offer the ebook version of Tiny Life Changes at the introductory price of $1.99 for a limited time. Not only is this a huge thank you, it's also a great way for thousands of others to discover Tiny Life Changes who otherwise might have never found Lauren and Lisa."
About the Authors
Lisa King has enjoyed a 30-year career in health and wellness as a pharmacist. Her firm belief in taking charge of your health and destiny led her to speak publicly on how to effectively manage medications.
Lauren Daniels is a life coach and author, but her most important roles in life are wife and mother. A diagnosis of breast cancer at an early age led her to starting the nonprofit Happily Ever After League (HEAL) that supports mothers through cancer recovery.
King and Daniels can be reached for media and podcast interviews and speaking engagements at TinyLifeChanges.com
Tiny Life Changes will be featured on AZTV Channel 7, the Daily Mix with Catherine and Danielle on January 8th and here they are being featured in a recent video interview with their book publisher.