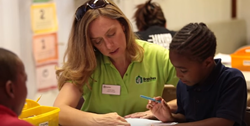 "We are honored to partner with the Coral Gables Community Foundation. They are a valued partner and are truly making an incredible impact in our Greater Miami community," said Brent McLaughlin, Executive Director of Branches.
(PRWEB) January 08, 2018
The Coral Gables Community Foundation recently donated a total of $2,500 to Branches South Miami's Grow and Climb programs as part of its commitment to positively impact our community. The Coral Gables Community Foundation has been at the forefront of the evolving needs of Coral Gables while effectively bringing together beneficiaries and benefactors to fund programs with the greatest impact and benefit to "The City Beautiful."
The Branches Grow Program serves elementary students preparing them for lifelong success through enrichment of their minds, bodies and hearts. Engagement with the students begins after school with tutoring and homework help but continues with enrichment including recreational activities, social skill development, mentoring, healthy meals and snacks as well as Summer Shade Camp. The Grow program lays the foundation to make a long-term impact in the lives of children from low-income families by retaining a high percentage of students over many years. Consequently, the learning and the growth that take place in the life of a Branches student in one year becomes the foundation for further personal development and growth the next year. After just a few consistent years of engagement at Branches, students are not only in the mindset of setting goals but they are achieving goals on a regular basis.
Branches is a local non-profit organization based in Miami. By providing life-changing opportunities, Branches helps working poor families and their children break the cycle of generational poverty. Its Grow Program serves elementary students, preparing them for lifelong success. The Climb Program serves middle and high school students, focusing on the development of their individual assets in order to maximize opportunities to become better students and better people. Branches' Achieve Programs target the well-being of the entire community through services fostering financial stability and long term success. Services include the ASSETS small business solutions program, the Ways to Work car loan program for working families, free VITA tax preparation and hunger relief. Branches is also proud to house and operate the United Way Center for Financial Stability (UWCFS).
"We are honored to partner with the Coral Gables Community Foundation. They are a valued partner and are truly making an incredible impact in our Greater Miami community," said Brent McLaughlin, Executive Director of Branches. "We are excited to bring impactful programming and services to the children, youth and families in our communities and to help them succeed in the long-term."
About Branches
For over 40 years, Branches has made a positive impact in the community by delivering on its mission to serve, educate and inspire people through student, family and financial stability services. Branches provides long-term, holistic services for motivated individuals and families. We help people grow deeper and climb higher in life by building a foundation through education so they can achieve their goals and fulfill their potential. For additional information about Branches, please call 305.442.8306 or visit http://www.branchesfl.org
About The Coral Gables Community Foundation
Led by community leaders, the Coral Gables Community Foundation provides the philanthropic conduit to connect individuals and corporations looking to positively impact the success of the community. Now in its 26th year, the Foundation has been at the forefront of the evolving needs of Coral Gables while effectively bringing together beneficiaries and benefactors to fund programs with the greatest impact and benefit to "The City Beautiful." To learn more, visit http://www.gablesfoundation.org
###