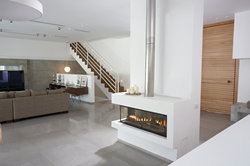 Our Lyric line of products is the culmination of many years of research and the important feedback we've gotten from our builder customers over the years
ORLANDO, Fla. (PRWEB) January 09, 2018
Ortal, the world's premier designer and builder of high-end contemporary frameless gas fireplaces for more than 30 years, introduces an entirely new line of fireplace products to fulfill growing needs within the builder market. Lyric, the new contemporary line, is an extension of the current best-in-class offerings from Ortal, boasting the same high-quality construction and popular finish options, but value engineered to give builders a mid-level price point option from the luxury brand.
"Our Lyric line of products is the culmination of many years of research and the important feedback we've gotten from our builder customers over the years," said Ortal USA General Manager Spencer Lowe. "We knew we wanted to combine all of the best elements of our current collection of quality gas fireplaces but at price points that ensure it's not prohibitive, and with Lyric we've accomplished that. We're extremely excited about unveiling it here at IBS."
Ortal's Lyric uses a flat stainless-steel burner to provide a strong, balanced flame height. Due to the four-inch depth of the burner, it provides a sense of real life flame and not the ribbon flame used in several other fireplace brands.
Easy to install and built to builders' stringent codes, Lyric is compatible with any type of wall finish, including wood or fabric. With advanced cool wall technology, Lyric uses a technique of heat release that expels the heat inside the cavity, allowing the wall surrounding the fireplace to remain cool. This lets users install a TV or artwork directly above the fireplace to further enhance the decor. An added plus, the heat barrier screen around the fireplace can be quickly removed for repair or cleaning – so the fireplace can be serviced without hassle.
Lyric is available as a Front, Corner, Peninsula, Three Sided, See-Through or Stand-Alone product. Along with the flexibility of the product and the available designs, the value-engineered price point for Lyric makes it appropriate for many design schemes and budgets.
The new product will launch at IBS January 9, 2018. Those interested in viewing the product firsthand can stop by booth #S2644.
About Ortal
Ortal is the world's premier designer and builder of high-end contemporary frameless gas fireplaces. For more than 30 years, Ortal has led in its category by developing exclusive fire technologies to meet the most stringent requirements of architects, designers, builders and home and business owners. Ortal's fireplaces maximize radiant heat, providing a green, environmentally friendly heating solution for the modern era. Ortal has nine collections, each with multiple sizes and finishes, which is what makes it architects' go-to brand. With meticulous attention to detail, Ortal has built a reputation on its uncompromising quality of materials, finish, safety standards, ease of installation and end-to-end services. For more information, please visit http://www.ortalheat.com.