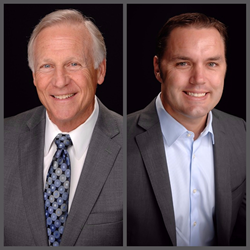 It's like parenting. We aren't taught how to parent, so we end up doing what our parents did, what our neighbors or friends have said worked for them, or what amounts to a trial-and-error approach with our children.
VENTURA, Calif. (PRWEB) January 08, 2018
Most people don't really know how to invest. "This is due to the fact that investing is not something we are ever taught," said Ross Hoffman, president and CEO of Hoffman & Associates. "It's like parenting. We aren't taught how to parent, so we end up doing what our parents did, what our neighbors or friends have said worked for them, or what amounts to a trial-and-error approach with our children."
To educate people on how to be a successful investor, Hoffman, who has over 30 years of professional experience in financial, estate, and investment advising, shares the following five tips:
No. 1: Diversify (a.k.a. Modern Portfolio theory). "This describes how to put your portfolio together in such a way that you can maximize your expected returns for any given level of risk consistent with your goals and objectives," noted Hoffman. (See empirical research by Professor Harry Markowitz.) "We've all heard 'don't put all your eggs in one basket,' but how do you diversify your investments? Own many holdings among different types of companies (asset classes). You should also diversify between U.S. and international companies. Lastly, but perhaps most importantly, you should diversify between risky assets (equities) and safer assets (bonds)."
No. 2: Allocate some of your portfolio to asset classes with higher-expected returns (a.k.a utilize the Three-Factor Model). This model helps one understand which asset classes are expected to give them the highest returns over time, but also typically entails the highest market risks. The three factors are as follows: equities outperform fixed income over time, small-company stocks outperform large-company stocks over time and value stocks outperform growth stocks over time.
"Therefore, by tilting your portfolio toward small-company and value holdings, you can pick up these additional expected returns," added Hoffman.
No. 3: Use index funds and/or ETFs (a.k.a Don't pick individual stocks). "Do not chase star managers or try to time when you think you should get in or out of the market," advised Hoffman. "These are all a loser's game. The more you try to beat the market rates of return by picking stocks or periodically changing your investments, the more cost you add and the higher the probability you will make mistakes. Odds are you will underperform what you could have done just sitting on your hands. Instead of owning individual stocks, consider broadly diversified index funds and/or ETFs."
No. 4: Control the risk. Nobody knows when the next market crisis will occur, only that it will. Your portfolio should be constructed based on your long-term retirement planning. This means a balance between what you need for growth, and what you need for safety. Volumes can be written on the subject of risk.
No. 5: Stick with your plan (a.k.a manage your behavior). "The best portfolio in the world is useless if abandoned during difficult times," concluded Hoffman. "If you have considered the points above and diversified your portfolio and managed your risk via the balance between equities and bonds, then you should be able to weather a market storm."
About Hoffman & Associates
Hoffman & Associates is comprised of a team of wealth managers. Hoffman & Associates services include financial and estate advising, retirement planning, business exit planning, investing and insurance. For more information, please call (805) 648-5300, or visit http://www.hoffmanwm.com. The office is located at 121 N. Fir Street, Suite D, Ventura, CA 93001. Securities offered through Fortune Financial Services, Inc. Member FINRA/SIPC. Hoffman Wealth Management and Fortune Financial Services, Inc. are separate entities.
About the NALA™
The NALA offers small and medium-sized businesses effective ways to reach customers through new media. As a single-agency source, the NALA helps businesses flourish in their local community. The NALA's mission is to promote a business' relevant and newsworthy events and achievements, both online and through traditional media. The information and content in this article are not in conjunction with the views of the NALA. For media inquiries, please call 805.650.6121, ext. 361.