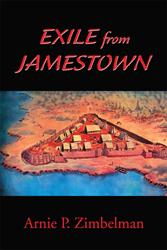 ELK GROVE, Calf. (PRWEB) January 08, 2018
Dr. Arnie P. Zimbelman, a retired U.S. history professor, became inspired by his teachings and began to analyze the human motivations that influenced early settlers to leave their secure environments in the old country to venture forth into the largely unknown. His new novel, "Exile from Jamestown," is a fictionalized tale that attempts to understand the ways of early settlers.
Zimbelman's professional experience and interest in United States history is apparent in "Exile from Jamestown," where he takes readers on a real-life journey through the events that occurred in Colonial America.
"As a U.S. history professor, I have always been interested in our earliest beginnings, particularly how decisions were made, how many projects almost came to failure, and how hard work and determination frequently became the essential ingredients for success instead." Zimbelman said "This was my inspiration for writing Exile from Jamestown."
Zimbelman's work shows that courage, tenacity and working together for the common good are key factors in being successful.
"Exile from Jamestown"
By: Dr. Arnie P. Zimbelman
ISBN: 978-0-5953-4898-5 (Softcover); 978-0-5958-0911-0 (Hardcover); 978-0-5957-9615-1 (eBook)
Available at the https://www.iuniverse.com/Bookstore/BookDetail.aspx?BookId=SKU-000082662 and https://www.amazon.com/Exile-Jamestown-Arnie-P-Zimbelman/dp/059534898X
About the author
Dr. Arnie P. Zimbelman is also the author of "Recompense: Return to Oberammergau" and "Betrayal at Popham: The "Lost Colony" of Maine," which were inspired by his interest in U.S. history. Zimbelman was a U.S. history professor for 38 years before retiring. He currently resides in Elk Grove, California.
Review Copies & Interview Requests:
LAVIDGE – Phoenix
Rian Rosado
480-998-2600 x 554
rrosado(at)lavidge.com