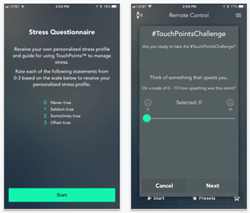 This small but powerful technological update allows people to truly measure and address their stress in real-time, in a completely non-invasive way.
SCOTTSDALE, Ariz. (PRWEB) January 08, 2018
The TouchPoint Solution™, the creator of stress-relieving non-invasive neuroscience wearable devices, will for the first time be showcasing their Original and Basic models at the Consumer Electronics Show in Las Vegas, NV this year, from January 8th to January 12th, 2018.
TouchPoints are patent pending non-invasive neuroscientific wearable devices that can be worn on both wrists or clipped to either sides of the body. Using BLAST (Bi-lateral Alternating Stimulation Technique), TouchPoints have shown to not only alleviate stress, but also to improve focus, reduces cravings, and enable better sleep. These non-invasive devices have also shown to help users with symptoms of ADHD, autism and Parkinson's disease.
Media and exhibition attendees are welcome to stop by the booth to demo TouchPoints products, meet co-founders Vicki Mayo and Dr. Amy Serin, and watch live brain scans and blood pressure monitoring to see how TouchPoints work in real time.
While at CES, TouchPoints will also unveil an exciting new app update for their users. The new app update provides users with the ability to create a Personalized Stress Profile (PSP.)
After downloading the app on the Apple Store or Google Play and registering for free, users can take a short quiz to find out their personalized stress profile (PSP), receive lifestyle tips on managing stress and specific recommendations on how/when to use their TouchPoints.
Of the app update, Co-Founder and CEO Vicki Mayo said, "We are excited to use new technology to provide real solutions for people who are negatively impacted by stress. This small but powerful technological update allows people to truly measure and address their stress in real-time, in a completely non-invasive way."
CEO Vicki Mayo will also be speaking as part of a YPO (Young President's Organization) event on Monday, January 8th 2018 at the Venetian/Palazzo Meeting rooms, Level 2, Bellini 2005 – 2006, at 10:30am. Her talk will focus on the future of wearables and AI technology.
For more information about TouchPoints please visit http://www.thetouchpointsolution.com.
Add us to your CES Floor Plan Sands Booth #45735:
https://ces18.mapyourshow.com/7_0/floorplan/?hallID=X&selectedBooth=booth~45735
About TouchPoints:
Neuropsychologist Dr. Amy Serin and Executive and foster mother Vicki Mayo founded The TouchPoint Solution in late 2015 with the mission of bringing relief to the millions of people who suffer from stress and related disorders. Over the time span of a decade, Dr. Serin's work in therapy and neuroscience led to the discovery of a very successful PTSD treatment that could be used as a stand-alone product for gifted children and executives whose stress and intensities hamper performance, relaxation, sleep, and their ability to cope with sensory stimuli. Dr. Serin used quantitative electroencephalogram data, existing neuroscientific research, and archived data to unearth significant changes in the brain just seconds after experiencing bi-lateral alternating stimulation (BLAST). A key technological improvement was discovered, as was the notion of BLAST, which was too powerful a treatment to be confined to a doctor's office due to its effectiveness and simplicity. She then partnered with friend and entrepreneur Vicki Mayo to bring this extraordinary concept to the masses through the launch of The TouchPoint Solution.