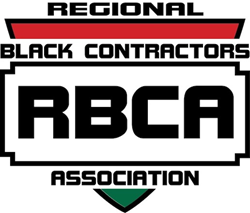 "Advancing the development and growth of African-American owned businesses."
DALLAS (PRWEB) January 09, 2018
This year, the RBCA set out to accomplish several key initiatives and they did exactly what they set out to do. The Regional Black Contractors Association's mission is to advocate for and advance the development and growth of African-American owned businesses and their capacity. This affects economic growth and prosperity of African-American communities in the North Texas Region, thereby creating a strong economic base that develops, empowers and supports the ongoing success of these communities and our businesses at large.
The RBCA worked hand and hand with State Representatives and TX DOT to hire the first black engineer, Ed Jones, CEO of EJES, to design the second phase of SM Wright Freeway US 175.
Webber Construction awarded several million dollars to black sub-contractors on this project. The I.M. Terrell Joint Venture in Fort Worth was awarded and valued at $40 million dollars with its largest based African American Contractor Con-Real LP. A joint venture with Azteca Omega and small black contractors was also established.
In addition, the RBCA awarded $15,000 in scholarships to High School students in the southern sector made possible by Members of the Association. The RBCA worked diligently with Dallas ISD to amend background requirements for contractors to help ex-offenders get jobs. The RBCA supported drug rehabilitation programs in the City of Dallas and mentorship programs were initiated with Con-Real, LP.
"In 2017, Black Contractors are still at 1% on pre-construction and construction in the DFW area. The RBCA plans to advance the industry in 2018 by aggressively advocating on behalf of their Members and the community. On the watch list for 2018 is AT&T, American Airlines, The Beck Group, Paul Quinn College, Fair Park, University of North Texas, Westdale, and the Union Bankers Building," said Chairman, John Proctor.
For more information on how to become a Member of the Regional Black Contractors Association, please contact Brenea Proctor at 214-565-8946 or via email at Brenea(at)blackcontractors.og.