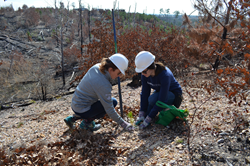 We're pleased with the continued support of our business partners, customers, and employees which has helped us reach our goal to fund the planting of 240,000 trees over the past three years
BASTROP, Texas (PRWEB) January 11, 2018
Fifty Philadelphia Insurance Companies (PHLY) employees are supporting the company's efforts to plant 80,000 trees for the third consecutive year through a two-day project near Austin, TX. Today employees finished their second day of planting in Bastrop State Park as part of the PHLY 80K Trees initiative, resulting in 3,500 trees in the ground.
PHLY's 80K tree planting mission began in 2015 in partnership with the Arbor Day Foundation and was renewed in 2016 and 2017. The goal to fund the planting of 80,000 trees was reached each year with the help of PHLY's independent agents, brokers, and policyholders who signed up for paperless statements. The company has used the cost savings from each year's new paperless enrollees to fund plantings the following year. PHLY (pronounced phil-EE) employees returned to Bastrop, TX this year, where the Arbor Day Foundation recommended planting an additional 40,000 trees. A 2011 wildfire in the Bastrop State Park destroyed close to 1,700 homes, killed two people, and inflicted an estimated $325 million of insured property damage. The Arbor Day Foundation will lead projects to plant an additional 40,000 trees in other U.S. forests this year to complete the 80,000 trees PHLY funded in 2017.
"We're pleased with the continued support of our business partners, customers, and employees which has helped us reach our goal to fund the planting of 240,000 trees over the past three years," shared Bob O'Leary, president and chief executive officer of Philadelphia Insurance Companies. "With 20,000 trees planted personally by our employees in Bastrop over the past two years, we decided to renew our commitment to the area's recovery and allow our employees to see the progress of our previous efforts."
There are over one million acres across the country in desperate need of replanting due to natural disasters according to the U.S. Forest Service. PHLY's efforts to support the planting of 80,000 trees will help provide greater security to communities, including PHLY's policyholders.
For more information about the initiative, please visit http://www.PHLY.com/GoPaperless.
About Philadelphia Insurance
Philadelphia Insurance Companies designs, markets, and underwrites commercial property/casualty and professional liability insurance products incorporating value added coverages and services for select industries. The Company is rated "A++" (Superior) by A.M. Best Company and "AA-" for counterparty credit and financial strength by Standard & Poor's. In business for over 50 years, PHLY is nationally recognized as a member of Ward's Top 50, one of the Best Places to Work in Insurance, and one of the Healthiest 100 Workplaces in America. The organization has more than 50 offices strategically located across the United States to provide superior service. For more information, please visit http://www.PHLY.com.
About Arbor Day Foundation
Arbor Day Foundation is a million member nonprofit conservation and education organization with the mission to inspire people to plant, nurture and celebrate trees. More information is available at arborday.org.